Rishi Sunak's Spring Statement likely short on detail despite fuel crisis, expert says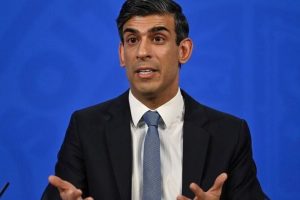 Pensions are at 'highest level in three decades' says Sunak
We use your sign-up to provide content in ways you've consented to and to improve our understanding of you. This may include adverts from us and 3rd parties based on our understanding. You can unsubscribe at any time. More info
Rishi Sunak has already announced measures to tackle the soaring pressures facing household finances with a rebate on energy bills announced for October, which will then be repaid over the following years. But the Spring Statement on Wednesday, March 23, may have less headline announcements. Sir Charlie Bean, a former Deputy Governor of the Bank of England, told Express.co.uk the Chancellor may instead opt for a more "nimble approach", taking action when required rather than announcing a raft of measures upfront. He explained that during the pandemic Mr Sunak carried out 18 different actions outside of the traditional Spring and Autumn Budgets.
With Ofgem's energy price cap next being revised in October the full consequences of the Ukraine conflict won't be known until then making it harder for the Treasury to know what measures might be needed.
While the Chancellor may want to wait and see, there have been widespread calls for a range of policy measures.
The British Chambers of Commerce (BCC) has urged the Chancellor to take "bold and decisive action", warning that businesses are facing crisis-level cost pressures.
The BCC has been one of a number of business lobby groups to push for a delay in the rise in National Insurance, which will increase by 1.25 percentage points in April.
Sir Charlie, who also served as a member of the Office for Budget Responsibility, said there was "no economic argument against doing this".
However he warned of the political difficulties now that this has been announced as a measure to pay for post-Covid stress to the NHS and social care, adding that the problem with putting it off would be next year people may find another reason to want to delay it again.
Sir Charlie predicted Mr Sunak would be "reluctant to do anything" on fuel duty for similar reasons.
There have been widespread calls to cut fuel duty to ease the pressure on motorists as prices at petrol pumps have reached record levels, with this being supported by motoring groups such as the AA and RAC and industry bodies such as the Petrol Retailers Association.
Fuel duty has been frozen for the last 10 years with it normally increasing in line with inflation, but remains a key component of fuel prices, representing 57.95p on every litre.
Petrol also attracts VAT at 20 percent with the Treasury predicted to take an extra £2.9 billion from fuel taxes at today's prices.
Sir Charlie warned that the Treasury would likely want to avoid a cut to fuel duty when it is meant to rise in the future.
While Mr Sunak could argue for a cut now with a promise to restore it later Sir Charlie suggested he would be "quite reluctant" to do this, given the risks the future rise would also be opposed.
DON'T MISS:
UK heading for worst recession since the 1970s [REVEAL]
City surges as global financial centre since Brexit – 'great energy' [INSIGHT]
Energy price hike warning: £3000 cap and more frequent hikes possible [ANALYSIS]
Reluctant or not though the Chancellor also faces growing pressure from his own party with Tory MPs in the Commons asking whether a cut to fuel duty will be considered for the Spring Statement.
Mr Sunak has so far downplayed this, saying he would "bear (the idea) in mind" but also welcomed the recent fall in oil prices which he said showed the "volatility of the situation."
The UK would be far from alone if Mr Sunak did cut fuel duty with France, Sweden, The Netherlands and Ireland all cutting taxes on fuel and energy.
Source: Read Full Article