The Fastest Cars on Earth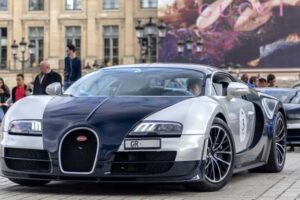 The Fast and Furious franchise has garnered fans across the globe with its high-powered cars and action-packed story. Some fans may be captivated by the compelling characters and plot, but many stick around for the different cars and how fast they can go. (These are the most outrageous car collections in the world.)
As technology continues to evolve at a rapid pace, high performance cars keep pushing the limit in terms of speed, and there is always the question of who is the fastest.
To determine the fastest cars on Earth, 24/7 Wall St. reviewed a ranking of the Fastest Cars In the World, published by TopSpeed, an online automotive news publication. Cars are ranked according to their top speed. We included supplemental information, also from TopSpeed, regarding the type of engine, horsepower, price, and zero-to-60 miles per hour acceleration time.
The list contains a fair number of famous brands that car fanatics swoon over. Names like Bugatti and McLaren are prevalent on the list, though the list includes some lesser-known brands that are equally powerful. Regardless of recognition, these brands are all boutique, as opposed to major brands such Ford or Dodge.
The cars on the list are all also fairly expensive, with most costing in the millions of dollars. Considering the expense of engineering, it is no wonder the average consumer cannot purchase one of these cars.
The title of the world's fastest automobile, according to TopSpeed data, currently belongs to the Koenigsegg Jesko Absolut. This hypercar was originally revealed in 2020 and boasts a twin-turbo V-8 engine, an aerodynamic profile finely tuned through computational fluid dynamics, and lightweight carbon fiber construction. It reaches an incredible top speed of over 300 mph. 
Not far behind in this race is the French-made Bugatti Bolide — the third-fastest car. This car easily breaks the 300-mph barrier with its 8.0-liter quad-turbocharged W16 engine delivering 1,825 horsepower. Unsurprisingly, this car is not cheap and generally goes for roughly $4.3 million. (Here are the most outrageous car collections in the world.)
Here is a look at the fastest cars in the world.
Sponsored: Tips for Investing
A financial advisor can help you understand the advantages and disadvantages of investment properties. Finding a qualified financial advisor doesn't have to be hard. SmartAsset's free tool matches you with up to three financial advisors who serve your area, and you can interview your advisor matches at no cost to decide which one is right for you. If you're ready to find an advisor who can help you achieve your financial goals, get started now.
Investing in real estate can diversify your portfolio. But expanding your horizons may add additional costs. If you're an investor looking to minimize expenses, consider checking out online brokerages. They often offer low investment fees, helping you maximize your profit.
Source: Read Full Article