Jealous chef stalked his ex-partner after they broke up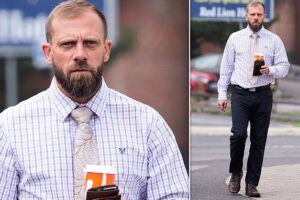 Jealous chef trained by Raymond Blanc who stalked his ex-partner after they broke up told police he wanted to KILL her new lover – as he admits spying on the couple by peering through their windows and tampering with CCTV cameras
David Watts, 43, became 'fixated' on his former partner following a break up
The award winning chef admitted spying on his ex-partner through the windows 
An acclaimed chef who became 'fixated' on his former partner following a break up told police he wanted 'to kill' her new lover, a court heard.
David Watts, 43, admitted spying on his ex-partner Melissa Gray through the windows and tampering with CCTV cameras at her home in Andover, Hampshire. 
The highly-rated chef turned up unannounced and uninvited to his former girlfriend's house on 'multiple' occasions after having a child with Ms Gray in 2021.
Watts was trained by Raymond Blanc at his twice Michelin starred restaurant Le Manoir aux Quat'Saisons, in Oxfordshire, where he spent eight years and became senior sous.
The award-winning cook admitted one count of stalking at Basingstoke Magistrate's Court and is now set to be sentenced next month.  
Award winning chef David Watts, 43, (pictured) told police he wanted to kill his ex-partner's new lover
He took over the Crown Inn, in Upton, Hampshire in 2019 and it has since been awarded 'Bib Gourmand' status in the Michelin guide.
Watts, who also won Good Food Guide's Chef to Watch accolade in 2013, and Ms Gray got together in 2021 and had a baby, before things turned sour, the court heard.
Over a three week period throughout February and March of this year, Watts repeatedly turned up at her home.
He admitted making up that his other child wanted to see the baby as an 'excuse' to see her.
At Basingstoke Magistrates' Court, Watts admitted one charge of stalking.
Prosecutor Serena Edwards told the court Watts and Ms Gray had been in a relationship since 2021 and had a child together in that time.
'This incident begins with a couple getting together, with a desire to have a child,' she said.
'There was a breakdown in the relationship, this led to the couple separating.
'The defendant had become fixated on a male friend [of Ms Gray's].'
The court heard Watts would 'persistently' message his ex-partner and visit her address to 'to see what was going on'.
'Multiple dates have been provided,' she continued.
The court heard the couple had an agreement for Watts to make specific visits on set dates so he could see his child and how to communicate with his ex.
'The defendant sent messages outside of that scope, saying how unhappy he was she had contact with this other male,' she said.
Ms Edwards said as well as attending her property unannounced he would make comments suggesting he had been observing her from outside.
'On a number of occasions he has been caught on CCTV,' she continued.
'And admitted moving the location of the cameras, on occasions more than once in a day.
'The defendant had become somewhat fixated on Ms Gray.'
In an interview with police, the court was told he 'didn't believe' his behaviour amounted to stalking.
The acclaimed chef admitted spying on his ex-partner through the windows and tampering with CCTV at her house 
When asked if he was fixated with the other male, Watts admitted he was a 'problem' and on one occasion even said he 'wanted to kill him' in a 'throwaway comment'.
Watts also admitted he didn't want the man seeing his ex-partner or the baby.
The court heard Watts had also been using his other child 'as an excuse' to continue seeing her and the baby, by making up that they wished to see the baby.
The court heard he had also said things to Ms Gray about goings on in the property, which could only have been known from spying.
Ms Edwards added: 'She wanted to feed the baby, have a bath and go to bed.
'[Watts] had said he had seen the baby being winded by [the man] – he could only have known that from the window.'
Watts, who was unrepresented, spoke briefly to admit he had been to his ex's home and had tampered with the CCTV cameras.
Ms Edwards said Watts had reflected on his behaviour, adding: 'He sees that his behaviour was excessive.
'His concern was fully with regard to the other man but he does recognise he has no control over that relationship going forward.'
After admitting he still 'loved' Ms Gray, the court heard he wants to ensure an amicable relationship going forward with their childcare plan.
Watts was granted conditional bail and will be sentenced next month.
Last week, Watts took to Facebook to announce the closure of the Crown Inn.
'I have to let you know with huge sadness and heartache that I have had to make the decision to close The Crown for good as of last week,' he wrote.
'It has certainly not been an easy decision to do this but due to raising costs and other unforeseen circumstances I have no other options and can't financially afford to support and keep The Crown afloat.
'Be kind to others as we are all only human.'
Source: Read Full Article