The Most Expensive American Military Planes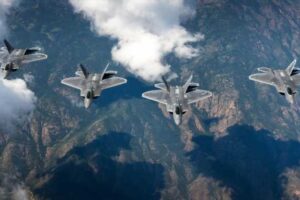 The U.S. Department of Defense has by far the largest budget on the planet, and this budget has likely yielded the strongest and most advanced military the world has ever seen. One of the main investments has been in the military's air power, which is increasingly important in modern warfare and defense as aircraft allow for the execution of strategic operations around the world. (Also see, America's 15 planes that fly on aircraft carriers today.)
Of course, these aircraft come at a cost, and the U.S. military has some of the world's most powerful, innovative, and advanced — but also some of the most expensive — aircraft. 
To identify the most expensive military planes in the U.S. military, 24/7 Wall St. reviewed the 2023 World Air Forces report from FlightGlobal, an aviation and aerospace industry website, and varying sources for prices of U.S. military aircraft listed in the report. Included in this list are the 24 aircraft with unit prices of more than $100 million – adjusted for inflation to May 2023 using the CPI inflation calculator from the Bureau of Labor Statistics. Data on primary roles and primary contractors came from various military and historical sources.
Topping the list is the B-2 Spirit Stealth Bomber, which costs roughly $2.15 billion per unit and offers strategic capacity for nuclear deterrence. The stealth technology incorporated in the B-2 design makes it nearly invisible to enemy radar systems, enhancing its operational flexibility. This aircraft is capable of delivering conventional and nuclear ordinances with a high degree of accuracy.
Another top entry is the E-3 Sentry military aircraft, also known as Airborne Warning and Control System, or AWACS. Manufactured by Boeing, this aircraft is built upon the frame of a Boeing 707 but integrates some of the most sophisticated radar and sensory equipment – all at a unit cost of just over half a billion dollars. 
Noticeably, most of the aircraft on this list are larger ones, meaning, there are not many fighter jets. Most play logistical or support roles. For example, several major transport aircraft make the list as do many that play roles in electronic warfare or early airborne warning. These can be incredibly expensive to outfit with state-of-the-art technology. (Here are the 26 military aircraft of the future.)
These aircraft not only represent a hefty share of the U.S. defense budget but demonstrate the nation's commitment to maintaining superiority in military aviation. Their design and capabilities underscore the importance of airpower in safeguarding national security interests and strategic outlook. 
Here is a look at the most expensive airplanes in the U.S. military.
Sponsored: Tips for Investing
A financial advisor can help you understand the advantages and disadvantages of investment properties. Finding a qualified financial advisor doesn't have to be hard. SmartAsset's free tool matches you with up to three financial advisors who serve your area, and you can interview your advisor matches at no cost to decide which one is right for you. If you're ready to find an advisor who can help you achieve your financial goals, get started now.
Investing in real estate can diversify your portfolio. But expanding your horizons may add additional costs. If you're an investor looking to minimize expenses, consider checking out online brokerages. They often offer low investment fees, helping you maximize your profit.
Source: Read Full Article