U.S. Sanctions North Korean Firms For Generating Revenue For Ballistic Missile Programs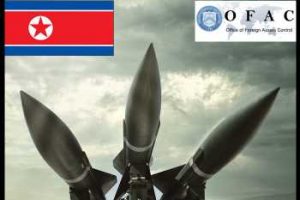 The United States has imposed sanctions on three North Korean firms and two individuals that have attempted to generate revenue for the autocratic regime's unlawful weapons of mass destruction (WMD) and ballistic missile programs.
The companies targeted by the Department of the Treasury's Office of Foreign Assets Control (OFAC) are Chilsong Trading Corporation, Korea Paekho Trading Corporation and Congo Aconde SARL. pursuant to Executive Order (E.O.) 13687 for being agencies, instrumentalities, or controlled by the North Korean Government. OFAC also designated Hwang Kil Su and Pak Hwa Song. Song is the owner of Congo Aconde.
These entities and individuals have all generated revenues, which Pyongyang utilizes for its weapons programs, according to the State Department.
Pak and Hwang established Congo Aconde SARL in the Democratic Republic of the Congo to earn revenue from construction and statue-building projects with local governments. The North Korean Government uses trading companies like Chilsong to earn foreign currency, collect intelligence, and provide cover status for intelligence operatives. Paekho has generated funds for the government since the 1980s by conducting art and construction projects on behalf of governments throughout the Middle East and Africa. Paekho is subordinate to the UN- and U.S.-designated North Korean Ministry of People's Armed Forces.
The European Union previously designated Chilsong, Paekho, Pak, and Hwang for engaging in sanctions evasion and being responsible for supporting North Korea's nuclear and ballistic missile programs.
"The DPRK's unlawful weapons of mass destruction and ballistic missile programs threaten international security and regional stability," said Under Secretary of the Treasury for Terrorism and Financial Intelligence Brian E. Nelson. "The United States remains committed to targeting the regime's global illicit networks that generate revenue for these destabilizing activities."
OFAC made it clear that as a result of the sanctions, all property and interests in property of the persons named above that are in the United States, or in the possession or control of U.S. persons, are blocked and must be reported to OFAC. In addition, any entities that are owned, directly or indirectly, by one or more blocked persons are also blocked.
Source: Read Full Article