U.S. Stocks Continue To Show A Lack Of Direction Ahead Of Powell Remarks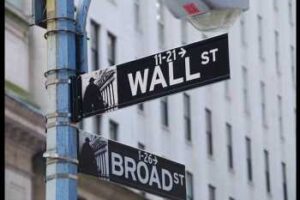 After ending the previous session little changed, stocks are turning in another lackluster performance during trading on Thursday. The major averages are once again bouncing back and forth across the unchanged line.
Currently, the major averages are posting modest losses. The Dow is down 96.54 points or 0.3 percent at 34,015.73, the S&P 500 is down 7.63 points or 0.2 percent at 4,375.15 and the Nasdaq is down 13.03 points or 0.1 percent at 13,637.38.
Traders remain reluctant to make significant moves as they question whether the markets can sustain their recent upward move.
Despite the choppy trading on Wednesday, the Nasdaq and the S&P 500 extended their winning streaks to nine and eight sessions, respectively, with the latter once again reaching its best closing level in well over a month.
The lackluster performance on Wall Street also comes ahead of remarks by Federal Reserve Chair Jerome Powell later this afternoon.
With Powell refraining from addressing monetary policy during a speech on Wednesday, his remarks during a policy panel discussion at the 24th Jacques Polak Annual Research Conference may attract increased attention.
Powell's remarks come relatively late in the trading day, however, potentially leading to light activity for much of the session.
The dip by the Dow comes even though shares of Disney (DIS) are spiking by 7.6 percent after the entertainment giant reported better than expected fiscal fourth quarter earnings.
In U.S. economic news, the Labor Department released a report showing first-time claims for U.S. unemployment claims edged down from an upwardly revised level in the week ended November 4th.
The report said initial jobless claims slipped to 217,000, a decrease of 3,000 from the previous week's revised level of 220,000.
Economists had expected jobless claims to inch up to 218,000 from the 217,000 originally reported for the previous week.
Sector News
Pharmaceutical stocks have pulled back sharply after trending higher in recent session, dragging the NYSE Arca Pharmaceutical Index down by 2.3 percent.
Healthcare and biotechnology stocks are also seeing considerable weakness, with the Dow Jones U.S. Health Care Index and the NYSE Arca Biotechnology Index both falling by 1.9 percent and 1.8 percent, respectively.
On the other hand, networking stocks have shown a substantial move to the upside, driving the NYSE Arca Networking Index up by 2.3 percent.
Shares of Infinera (INFN) are soaring by 21.1 percent after the telecom equipment company raised its third quarter guidance.
Gold stocks are also seeing significant strength following recent weakness, as reflected by the 1.5 percent gain being posted by the NYSE Arca Gold Bugs Index.
Other Markets
In overseas trading, stock markets across the Asia-Pacific region moved mostly higher during trading on Thursday. Japan's Nikkei 225 Index surged by 1.5 percent, while South Korea's Kospi edged up by 0.2 percent.
The major European markets have also moved to the upside on the day. While the French CAC 40 Index has jumped by 1.0 percent, the U.K.'s FTSE 100 Index is up by 0.6 percent and the German DAX Index is up by 0.5 percent.
In the bond market, treasuries are giving back ground after moving notably higher over the two previous sessions. Subsequently, the yield on the benchmark ten-year note, which moves opposite of its price, is up by 3.8 basis points at 4.561 percent.
Source: Read Full Article