U.S. Stocks Showing Modest Move Back To The Downside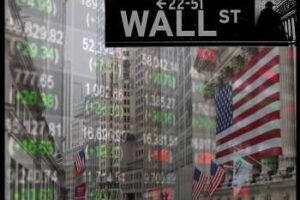 After moving sharply higher over the course of last Friday's session, stocks have moved modestly lower in morning trading on Monday. The major averages have all moved to the downside, although selling pressure has remained relatively subdued.
Currently, the major averages are off their worst levels but still in negative territory. The Dow is down 77.40 points or 0.2 percent at 33,596.98, the Nasdaq is down 37.41 points or 0.3 percent at 12,198.01 and the S&P 500 is down 3.91 points or 0.1 percent at 4,132.34.
Traders may be cashing in on the gains posted in the previous session amid ongoing concerns about turmoil in the banking sector and the outlook for interest rates.
Overall trading activity remains somewhat subdued, however, as traders look ahead to the release of key inflation data later in the week.
The reports on consumer and producer price inflation, which are due to be released on Wednesday and Thursday, respectively, could have a significant impact on the outlook for interest rates.
Most of the major sectors are showing only modest moves on the day, contributing to the relatively lackluster performance by the broader markets.
Telecom stocks have shown a notable move to the downside, however, with the NYSE Arca North American Telecom Index falling by 1.4 percent.
Tobacco and software stocks are also seeing some weakness, while oil and airline stocks have shown strong moves to the upside.
American Airlines (AAL) is leading the airline sector higher after JPMorgan upgraded its rating on the company's stock to Overweight from Neutral.
In overseas trading, stock markets across the Asia-Pacific region moved mostly higher on Monday, although Japan's Nikkei 225 Index bucked the uptrend and slid by 0.7 percent. China's Shanghai Composite Index surged by 1.8 percent, while Hong Kong's Hang Seng Index jumped by 1.2 percent.
Meanwhile, the major European markets are turning in a lackluster performance on the day. The French CAC 40 Index is nearly unchanged and the German DAX Index is down by 0.1 percent.
In the bond market, treasuries are extending the sharp pullback seen in the previous session. As a result, the yield on the benchmark ten-year note, which moves opposite of its price, is up by 5.9 basis points at 3.505 percent.
Source: Read Full Article