When is the autumn budget 2022? Treasury update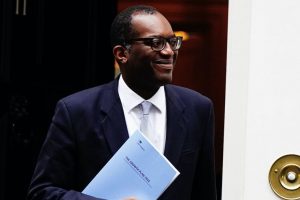 Tories showed 'their true colours' with mini-budget says Starmer
We use your sign-up to provide content in ways you've consented to and to improve our understanding of you. This may include adverts from us and 3rd parties based on our understanding. You can unsubscribe at any time. More info
Chancellor Kwasi Kwarteng delivered his much-anticipated "mini-budget" on Friday. Mr Kwarteng unveiled a package of tax cuts, primarily targeting the UK's upper earners, as the Government launched its bid to spark economic growth. Those who felt their needs were left unmet won't have to wait long before another round of policy announcements.
When is the 2022 autumn budget?
While the Chancellor delivered Friday's fiscal plan in the autumn, it was not the official autumn budget.
The Chancellor of the Exchequer delivers one budget in autumn each year so the UK can make the appropriate tax adjustments ahead of the new financial year.
Mr Kwarteng has promised to make additional financial announcements during his speech today.
While speaking about UK financial services, he said he would set out an "ambitious" financial package later this autumn.
He said: "To reaffirm the UK's status as the world's financial services centre, I will set out an ambitious package of regulatory reforms later in the autumn."
The fiscal event was not an official budget, functioning instead as a "growth plan", a Treasury spokesman told Express.co.uk.
They confirmed the Chancellor would deliver an official budget "before the end of the year" but added that dates are currently undecided.
In the meantime, Mr Kwarteng's mini-budget is receiving poor reception from domestic and international experts.
In her rebuttal to Mr Kwarteng, shadow Chancellor Rachel Reeves branded the statement an "admission of 12 years of economic failure".
She claimed the budget was "all based on an outdated ideology that says if we simply reward those who are already wealthy the whole of society will benefit."
Ms Reeves added: "They've decided to replace levelling up with trickle down."
While some Conservatives hailed the measures as a return to traditional Tory values, others were less than impressed.
One ex-minister told ITV's Robert Peston: "What worries me is never again will we be able to accuse Labour of being fiscally reckless or believing in the magic money tree.
"This better work or we are in deep trouble".
Green Party leader Caroline Lucas went a step further, calling a passage of Mr Kwarteng's speech "vile".
In a Twitter post, she said: "That was vile from @kwasikwarteng who actually just said 'for too long in this country we've indulged in a fight over redistribution'."
"Indulged? Dealing with inequality is somehow over-generous? Does he think people choose to be poor & face disadvantage? Disgusting."
The plan and the Tory track record also garnered overseas criticism from former US Treasury Secretary Larry Summers.
Speaking to Bloomberg Television, he said the UK would "be remembered for having pursued the worst macroeconomic policies of any major country in a long time."
He added: "It makes me very sorry to say, but I think the UK is behaving a bit like an emerging market turning itself into a submerging market."
Source: Read Full Article