Allison Herren Lee Named Acting Chair of SEC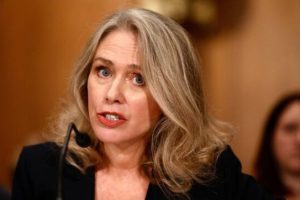 The Securities and Exchange Commission announced today that President Joseph R. Biden, Jr. has designated Allison Herren Lee as Acting Chair of the agency.
"It's an honor to continue my service on the Commission in this new role," Acting Chair Lee said. "I have tremendous respect for my colleagues on the Commission and the exceptional staff across the agency, and look forward to working closely with them. Together we will continue the agency's work of protecting investors and ensuring market integrity."
"During my time as Commissioner, I have focused on climate and sustainability, and those issues will continue to be a priority for me," Lee added.
Acting Chair Lee was sworn in as Commissioner on July 8, 2019 after unanimous confirmation by the Senate. She has written, lectured, and taught courses internationally on financial regulation and corporate law. She served on the staff of the SEC for over a decade in various roles, including as counsel to Commissioner Kara Stein and as Senior Counsel in the Division of Enforcement's Complex Financial Instruments Unit. In addition, she has served as a Special Assistant U.S. Attorney, was a member of the American Bar Association's former Committee on Public Company Disclosure, and participated on a USAID project in Armenia, assisting in the drafting of periodic reporting and disclosure provisions for a comprehensive law of the Republic of Armenia on Securities Market Regulation. Prior to government service, Commissioner Lee was a partner at the Denver law firm of Sherman & Howard LLC, focusing on securities, antitrust, and commercial litigation.
Little is known about Lee as far as this space is concerned. Since nomination in 2019, she hasn't said much regarding bitcoin or token based fundraising.
She is soon to be replaced by Gary Gensler who taught blockchain at MIT and appears to be a supporter of this technological innovation with Gensler currently going through the senate approval process after being nominated as SEC chair by Biden.
Source: Read Full Article