Binance vs. SEC Lawsuit Update: Binance Slams SEC's Deposition Request as Excessive – Coinpedia Fintech News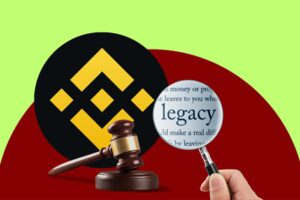 It's a tumultuous time for Binance.US (also known as BAM). The major cryptocurrency exchange is locked in a tense standoff with the U.S. Securities and Exchange Commission (SEC). Binance.US argues that the SEC's current probe into their operations is not only excessive but lacking in concrete evidence.
Claims Without Proof?
Binance says it has always been vocal about its operations and regulatory commitments. Recently, they responded to the SEC, emphasizing the absence of any solid evidence indicating the wrongful diversion of customer funds.
Additionally, despite extensive prior investigations and data sharing, the SEC has yet to show any significant proof backing its claims. The exchange further emphasized that all materials they have produced only confirm their rightful handling and control of digital assets.
Another point of contention is the SEC's demand for depositions from BAM's top executives. The exchange says it is perplexed. They question the rationale behind the SEC's push to interrogate their CEO and CFO. For them, this feels like an unnecessary hassle, especially when the benefits of such depositions remain unclear.
Billions in the Balance
The drama started in the second quarter of 2023. The SEC pointed fingers at Binance CEO Changpeng Zhao and another key figure, Guangying 'Helina' Chen. Accusations were swirling that both redirected vast amounts of customer funds.
An SEC accountant's analysis even hinted that a staggering $12 billion went to Zhao, while $162 million ended up with a company associated with Chen in Singapore. However, Binance didn't stay silent.
They countered these claims head-on, with CZ openly refuting the accusations on social media platform X. Supporting his claim, a company representative stated that these funds were from the company's coffers, not from users.
The SEC's initial reaction was to halt all Binance.US operations by freezing its assets. This move was met with resistance. The court didn't favor the SEC's aggressive approach. Instead, it directed both parties to find common ground through discussions.
In any case, Binance.US continues to challenge the SEC's ongoing investigative efforts. Their lawyers argue that the demands for more data and executive interrogations seem out of proportion.
Source: Read Full Article