Cardano Falls As Bears Target $0.23 Support Again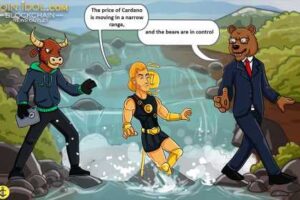 Cryptocurrency price analysis brought by Coinidol.com. The price of Cardano (ADA) has gradually returned to its previous level of $0.23.
Cardano price long-term forecasts: bearish
Cardano rose above the $0.23 support during the downtrend on August 17 as bulls bought the dips. The positive momentum was maintained by buyers until the high of $0.28. The altcoin encountered rejection at $0.28, so the upward correction was temporary. The altcoin fell to a low of $0.24 today. The existing support was defended by buyers since the September 11 price drop. On the upside, the 21-day line SMA or resistance at $0.25 have limited the price's ability to go higher. The price indication predicts that Cardano will continue to fall after reaching the current support. For example, the market will fall to its previous low of $0.20 if the bears break the $0.23 support.
Cardano indicator analysis
Cardano is in a bearish trend zone and could continue to fall until it reaches its previous low. For the 14 period, the price is at the 39 level of the Relative Strength Index. The moving average lines are above the price bars, which prevents the crypto from rising further. Below the stochastic level of 50 on the daily basis, the negative momentum has stopped.
Technical indicators
Key resistance zones: $0.30, $0.35, $0.40
Key support zones: $0.20, $0.15, $0.10
What is the next move for Cardano?
Cardano is plummeting and approaching its recent low of $0.23. The price of the cryptocurrency is moving in a narrow range between $0.23 and $0.25, and the bears are in control as they try to break the current support. If the bears prevail, the downtrend will resume. On the other hand, a price recovery will mark the beginning of a new uptrend. The uptrend will continue beyond the high at $0.28.
Last week Coinidol.com reported that the cryptocurrency asset is falling fast as it approaches its previous low of $0.23. The last price range of $0.25 to $0.28 was breached as the altcoin came under selling pressure again.
Disclaimer. This analysis and forecast are the personal opinions of the author and are not a recommendation to buy or sell cryptocurrency and should not be viewed as an endorsement by CoinIdol.com. Readers should do their research before investing in funds.
Source: Read Full Article