Cardano Heading Towards the Lost Positions, Will ADA Price Hit $1?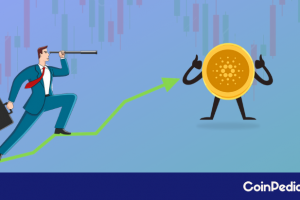 Cardano Poised to Break the Resistance level at $0.399
Cardano price is strongly heading towards the levels close to $0.4 after a massive plunge which declined the price nearly 14%. The price, however, balanced the stumbled situation and currently surging towards the resistance levels at $0.4.
However, with the Ethereum price rally regaining the momentum, ADA price may retest the above resistance levels. According to analysts Cold Blooded Shiller, the price is expected to overcome the 36% loss by a massive 75% profit to hit $0.4 in coming days.
As per one of the analysts KMvision, as ETH rally is bullish again, ADA price is expected to go parabolic. He also said that the ADA price below $0.35 is a gift. Moreover, some other analysts has predicted a pretty giant rally for Cardano, which will hit $5 soon.
ADA price Analysis, Will it hit $1?
The Cardano price maintained a steady rally till the end of 2020 and got a major boost since the first week of 2021. The rally appeared as a giant which carried the price from the levels below $0.2 to above $0.35 in just a couple of days. 
Yet another push surged the price which was trending around $0.31 to the levels close to $0.4
Currently, the price may break the support levels followed by a major plunge. But on the contrary, if the price fails to break, then a rebound may lead the price towards $1.
At the time of writing, the ADA price is $0.361 with a jump of 0.76% in the last 24 hours. However, the Cardano price which managed to sustain from the plunge till now may experience a slight pullback. Once the crypto market recovers, the altcoin season is expected to continue to new highs.
Source: Read Full Article