Chainlink Price Sees Heightened Surge as LINK Bulls Count on Network's Growth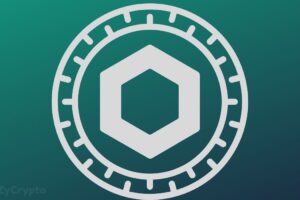 Chainlink's native cryptocurrency, LINK, has been on a relentless uptrend, emerging as one of the best-performing crypto assets in recent weeks.
Over the past month, LINK has demonstrated impressive strength, posting gains of approximately 31%, ascending from $5.70 on August 31 to an impressive $8 as of September 28. Notably, LINK's enthusiasm shows no signs of abating, with traders gearing up for further gains in October.
The recent surge in LINK's value can be attributed to Chainlink's groundbreaking development on September 27, when the Oracle platform integrated its Cross-Chain Interoperability Protocol (CCIP) with Coinbase's Base, an Ethereum layer-2 network.
Chris Barrett, Chainlink's Director of Communications, took to X Friday to share the news of CCIP's integration with Base, emphasizing the opportunities it presents for developers.
"CCIP will allow developers on Base to build advanced decentralized applications that can securely transmit digital assets along with data and messages between distinct blockchain networks," tweeted Barrett.
Furthermore, he stressed that this integration opens up new horizons for cross-chain decentralized applications (dApps) and services, allowing them to exchange messages, transfer tokens, and initiate actions across various blockchains.
The CCIP protocol, introduced in July, has already made substantial strides by integrating Ethereum, Avalanche, Polygon, Arbitrum, and Optimism. Furthermore, Chainlink's CCIP recently demonstrated its prowess by facilitating SWIFT-based payments between top banks like Citi and BNY Mellon and various blockchains, garnering attention at Sibos, Swift's premier financial services event last week.
That said, investor interest in LINK has surged alongside these developments. On Friday, renowned crypto analyst Ali Martinez reported that Chainlink whales purchased over 7.5 million LINK tokens in the past two weeks, representing a staggering $53 million investment.
Moreover, Chainlink has experienced a notable uptick in on-chain activity, reaching a peak not seen in two months. On September 21, nearly 4,000 unique addresses actively engaged with the network, underlining the growing interest and participation in Chainlink's ecosystem.
That said, amidst ongoing crypto market volatility, Chainlink stands out as a stable and promising altcoin. On Thursday, Rekt Capital, a well-known crypto analyst, pointed out that LINK's price has broken its long-term downtrend, signalling potential for further gains.
"Chainlink is breaking its Macro Downtrend (blue), but it hasn't yet broken out from its Macro Range (black). A successful retest could pave the way for a breakout and challenge the Range High," he tweeted.
At press time, LINK was trading at $7.91, reflecting an impressive 9.34% surge over the past seven days.
Source: Read Full Article