Elon Musk Has "Secretly" Been Funding Dogecoin Development, Report Reveals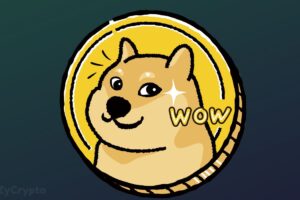 Reports have emerged that the world's richest man, Elon Musk, could be secretly funding the development of Dogecoin (DOGE).
On August 31, The Wall Street Journal reported that Elon Musk has been secretly funding Dogecoin's development. This revelation adds an intriguing layer to his prominent relationship with the canine-themed cryptocurrency.
DOGE, which started as a playful internet meme in 2013, garnered significant attention when Elon Musk publicly endorsed it in 2021 by revealing that Tesla would accept Dogecoin for some of its merchandise. In August of the same year, it was reported by various outlets that Musk would serve as an advisor to the Dogecoin Foundation, further cementing his connection to the project. However, in October 2021, Musk distanced himself, stating, "I have no connection with the Dogecoin Foundation."
Nevertheless, despite these conflicting statements, Musk's ties to DOGE persist. Musk acquired Twitter in April 2023 and altered its logo from the iconic blue bird to a Shiba Inu, symbolizing Dogecoin. This move hinted at Musk's intentions to integrate DOGE into his Twitter-based plans.
These revelations come when the crypto market is experiencing heightened volatility. The recent slowdown in the Bitcoin price rally has affected not only Bitcoin but also Dogecoin, which is currently down about 90% from its May 2021 all-time high of $0.73. The crypto community is now bracing itself for a potentially turbulent September, with many wondering about the implications of Musk's covert funding on the crypto landscape.
That said, while the extent of Musk's financial involvement in Dogecoin's development remains undisclosed, his ambitious plans for the cryptocurrency are clear. Musk has previously expressed his desire to elevate Dogecoin to outshine Bitcoin, aiming for it to become the "currency of Earth."
Dogecoin, which achieved a brief stint in the crypto top ten in 2021 amid meme and influencer-driven rallies, saw its value fluctuate alongside the broader crypto market in 2022. Despite the volatility, it has retained a significant portion of its gains, resulting in a combined Dogecoin network worth approximately $8.9 billion, according to CoinMarketCap data.
Meanwhile, Elon Musk's involvement in Dogecoin hints at potential developments that could reshape the future of its price and its applications. Most importantly, an official confirmation of the funding by the dogefather himself could catapult the DOGE price after a prolonged period of sapped volatility.
At press time, DOGE was trading at $0.0626 after a 1.66% drop in the past seven days. 
Source: Read Full Article