Exploring WingRiders' Launchpad Platform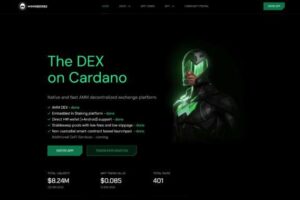 Introduction
WingRiders, a leading Automated Market Maker (AMM) and Decentralized Exchange (DEX) on the Cardano (ADA) blockchain, has unveiled WingRiders Launchpad (WRLP). This platform is designed to transform how new projects are launched and nurtured within the Cardano ecosystem.
WingRiders' Vision for the Launchpad
Five months ago, WingRiders introduced its Launchpad with a focus on three core principles: security, decentralization, and user-friendliness. The primary aim of the platform is to assist new projects in launching their tokens through price discovery and fundraising, while also providing liquidity market entry. This allows regular users to become early supporters and initial token holders of projects they believe in.
The platform strongly emphasizes security, setting stringent rules for the utilization of raised funds to mitigate the risk of rug pulls. All transactions, including handling funds by all parties, are managed on-chain through smart contracts. This ensures fair participation and enhances the security of deposited funds. Additionally, the smart contracts are designed with decentralization as a key feature, allowing for future autonomous operation of the Launchpad protocol.
According to a blog post from the WingRiders' team published yesterday, WRLP is a self-contained platform that aims to enrich the Cardano ecosystem by facilitating the introduction of new tokens. The platform is built on a robust architecture and offers a plethora of features:
Core Features of WingRiders Launchpad (WRLP)
Non-custodial: Users retain full control over their tokens throughout the entire launch process, ensuring maximum security.
Smart-contract-based: The platform operates on seven Plutarch Smart Contracts and incorporates six unique minting policies, all on the Cardano blockchain.
Decentralized: WRLP allows projects to set their own parameters, ensuring a decentralized and autonomous launch process.
Permissionless: The platform is open to any project that wishes to launch its token, offering a fully open UI that will be enabled after initial successful launches.
Security Measures: WRLP supports 11 different wallets, including WalletConnect, Trezor, and Ledger, to provide a secure user experience.
Antiscam Protocols: A portion of the funds raised is locked for a minimum of six months to deter market manipulation and scams.
Audited: The platform has undergone an exhaustive 8-week audit to ensure its reliability and security.
Compliance: WRLP is accessible based on jurisdictional requirements set by the launching project, but it is not available in the US, Canada, and Russia. It also supports a KYC process if the project chooses to implement it.
Customization: Projects can tailor various launch parameters, including multiple tiers with different conditions. They can even opt to raise funds in different tokens like iUSD, Djed, and ADA.
Using WingRiders Launchpad
Exploring Projects: Users can browse live or upcoming project token launches on the WingRiders Launchpad page.
Wallet Connection: To participate, users must connect one of the 11 supported wallets.
Contribution Validity Time: Users can specify a time frame for their contribution to be accepted by the Cardano blockchain, which also determines when the contribution will be registered on the Launchpad ledger.
Token Contribution: Users enter the amount of the token they wish to contribute and confirm the transaction.
Withdrawal and Rewards: Contributions can be withdrawn before the launch ends, under certain conditions. Post-launch, rewards are calculated and distributed.
Some Frequently Asked Questions
What happens if a project fails to launch?: In such cases, the platform enables autonomous withdrawals for contributed tokens.
What are Launchpad Tiers?: Projects can use up to one public tier and three NFT-based tiers for their launch.
How is the token price determined?: A specific formula calculates the token price based on the total raised tokens and the total designated project tokens for participants.
Risks and Limitations
WRLP is a high-risk platform due to the volatile nature of blockchain technology. Users are advised to conduct thorough research and only participate with tokens they are willing to lose. There are no safety nets or reimbursements available post-launch.
https://youtube.com/watch?v=pkeE0OyFpqM%3Ffeature%3Doembed
Source: Read Full Article