Get Paid to Learn about Cryptocurrency Trading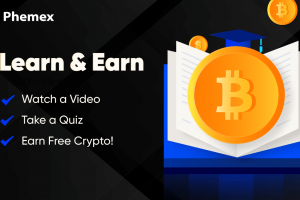 Yes, that's right! Starting June 17th, 2021, you can learn about cryptocurrency for free and you even get paid for it! 
Sounds a little skeptical? At first glance, that's normal. But don't forget that we are talking about a relatively new economic field that can't reach its potential without mass adoption. And that's not easy to achieve. 
Why are people afraid to adopt cryptocurrency?
Let's be frank. The concept of blockchain technology is not easy to understand, and people back down when they don't know what it is all about. 
If you didn't join the crypto area from the beginning and want to start now, it can be overwhelming – due to how much the field evolved over the last years. 
Learning on your own is not a great idea, especially because everybody hazards a guess about how all of these work. So what is actually valid?
Due to the large amount of info regarding crypto, it's understandable why so many people prefer to step aside. And this is holding back a technology with immense potential in the economic field.
Therefore, it was time for Phemex to give people a little push and make the learning experience a lot more enjoyable and more manageable. 
Phemex launches Learn & Earn
We couldn't expect less from one of the most innovative worldwide crypto trading platforms. Since the beginning, the developing team has wanted to provide users with all they need to enjoy the crypto adventure. 
And since most of the crypto courses are either expensive or disorganized, Phemex's team decided to stand up and make a change. 
With the Learn & Earn educational program, Phemex takes a leading role in educating newcomers, removing the complexity associated with crypto and trading. 
What do the courses look like?
Since there is not a single type of learning, Phemex has chosen to present the courses in the form of one-minute videos. That way, users can learn both visually and audibly. 
This is advantageous, especially for young generations, who struggle with short attention span – being used to get information quickly. 
It's free, simple, and friendly, and it rewards you with both knowledge and financial assets. 
Each lesson has a quiz at the end, and if you pass it, you will earn trading bonuses and, soon, cryptocurrencies. You will basically earn crypto by watching videos. 
Double your bonus!
To celebrate the launch of this new educational product, Phemex is running a limited social media promotion that will allow all users to double the trading bonuses received by completing the first three lessons.
If you have already completed the first course and received the total of $6 worth of trading bonus, simply head over to https://twitter.com/Phemex_official for more details on completing the campaign steps to double your total trading bonus to $12. 
What is Phemex?
Phemex is a crypto derivatives exchange founded by professional Wall Street Traders. 
The platform is known not just because of its helpful features and instruments but also because of its creative and innovative team. Multiple trading contests, NFT art projects, the limit is just their energy and imagination. 
Don't just stay there. Buckle up and join the crypto adventure! 
Source: Read Full Article