MakerDAO Secures $6 Billion For Treasury Bill Investments As MKR Dominates 2023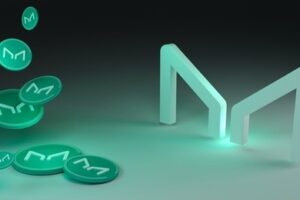 According to a Bloomberg report, MakerDAO, one of the prominent decentralized lenders in cryptocurrency, has reaffirmed its decision to invest billions of dollars in US government bonds.
This strategic move has propelled its governance coin, MKR, to reach its highest level since April 2022, outperforming other major cryptocurrencies, including Bitcoin (BTC).
MKR has experienced a remarkable surge of 77% this quarter, emerging as the best-performing cryptocurrency of the year. Despite a modest decline of 3.9% to $1,452 on Friday, the coin has nearly tripled in value. 
MakerDAO Doubles Down On Treasury Bonds
As per DefiLlama data, MakerDAO currently oversees $4.6 billion in assets. The rally of MKR can be attributed to MakerDAO's 2022 decision to convert the backing funds of its stablecoin DAI into assets such as short-term US Treasuries and corporate bonds. 
This strategic shift aimed to seek more stable yields amid the downturn in the cryptocurrency markets. Subsequently, MakerDAO passed a proposal enabling the investment of up to $6 billion in short-term Treasuries, doubling the existing limit.
Simon Peters, an analyst at investment platform eToro, suggests that the recent gains in MKR can be attributed to rising treasury yields following the Federal Reserve's indication of keeping rates higher for longer.
However, signs of a potential slowdown in the MKR rally have emerged. CryptoQuant data reveals a gradual increase in MKR tokens held on centralized exchanges (CEX), indicating that some traders are preparing to secure profits from the recent surge. 
Notably, the drop experienced on September 29 ahead of the monthly close marked the largest decline since mid-September.
According to Bloomberg, the trader enthusiasm for MKR has extended to DAI, MakerDAO's stablecoin. DAI's circulation has grown from a low of $3.9 billion on August 20 to $5.5 billion. 
Furthermore, MakerDAO introduced a limited-time offer of an 8% annual yield to DAI holders, which, combined with the approval of the investment proposal, could potentially trigger a fresh wave of buying in short-term Treasuries.
Allan Pedersen, the CEO of Monetalis, a firm assisting MakerDAO in its investments, expressed that if the supply of DAI continues to increase, it could lead to a significant expansion of MakerDAO's T-bill investments in a short time frame.
The developments surrounding MakerDAO's investment strategy in US government bonds, which have propelled MKR to new heights, signify a calculated move to achieve stability and sustainable yields by the decentralized protocol.
MKR Hits 18-Month High
MKR has declined over 4.5% in the past 24 hours, causing the token to retrace to its current trading price of $1,452. However, over the last month, MKR has exhibited consistent gains across various time frames, with notable increases of 12%, 19%, and nearly 40% over the seven, fourteen, and thirty-day periods, respectively.
Furthermore, MKR has reached an impressive 18-month high, surging by 101% year to date and briefly peaking at $1,590 earlier on Friday.
In the short term, safeguarding against an extended decline, MKR has two crucial support levels that bulls must defend. The first immediate support rests at $1,430, while the second support level, spanning two months, is positioned at $1,341.
Meanwhile, MakerDAO and its ecosystem appear poised for further gains with their investment strategy. With a few months remaining in 2023, there is a potential for MKR to conclude the year as the top-performing asset if the ongoing rally continues.
Featured image from Shutterstock, chart from TradingView.com
Source: Read Full Article