The Smallest and Biggest Bombs in the Russian Military Arsenal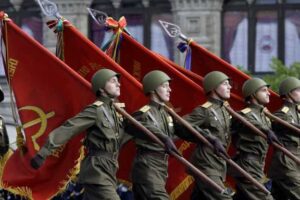 So far in its war in Ukraine, Russia has employed helicopters, fighter jets, rockets, and bombs among other arms and weapons. (As of early August, here are the latest Russian and Ukrainian weapon and vehicle losses.)
Russia has a wide array of bombs that are used for a variety of purposes. While some might be used for busting bunkers or destroying buildings, others can drop chemicals, cluster munitions, or incendiary charges. Even though the Convention on Cluster Munitions, signed by 112 states, does not permit some of these bombs, many countries' arsenals include them.
To list the aviation bombs Russia uses, 247 Wall St. reviewed an assessment of such bombs by GlobalSecurity.org, a site that analyzes security issues around the world. Aviation bombs are generally those dropped from aircraft. The weapons listed here are categories of bombs, ranked by weight of the heaviest bomb in each class. To find details on the bombs we relied heavily on the site Collective Awareness to Unexploded Ordnance (CAT-UXO).
Russia's bombs include incendiary, chemical, and precision-guided armaments. Not all do physical damage. The country's leaflet bomb, also known as AGITAB-500-300, drops propaganda material as a form of psychological warfare that serves to demoralize, threaten, and disseminate disinformation. (Also see, the 35 guns used by Russian special forces.)
While leaflet bombs are not meant to cause physical harm, practically all other Russian bombs do. One of the biggest bombs within Russia's arsenal is the aptly named "Father of all bombs" — a vacuum bomb. Also known as a thermobaric weapon, the vacuum bomb sucks oxygen from the air, enabling its fiery blast to last longer than a conventional bomb. It is also capable of vaporizing human bodies. In this case, The Father of All Bombs was meant to rival the U.S. equivalent, "The Mother of All Bombs,"
These are only a couple examples of the bombs in Russia's arsenal. Here is a look at the biggest bombs that Russia uses.
Click here to see the smallest and biggest bombs in the Russian military arsenal.
Sponsored: Tips for Investing
A financial advisor can help you understand the advantages and disadvantages of investment properties. Finding a qualified financial advisor doesn't have to be hard. SmartAsset's free tool matches you with up to three financial advisors who serve your area, and you can interview your advisor matches at no cost to decide which one is right for you. If you're ready to find an advisor who can help you achieve your financial goals, get started now.
Investing in real estate can diversify your portfolio. But expanding your horizons may add additional costs. If you're an investor looking to minimize expenses, consider checking out online brokerages. They often offer low investment fees, helping you maximize your profit.
Source: Read Full Article