Nomura's Q1 Net Income Declines with US Hedge Fund Losses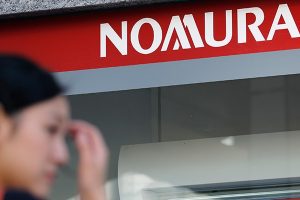 Nomura Holdings, Inc., a big name in the Japanese financial services industry, has reported 353.3 billion yen ($3.2 billion) in consolidated revenue for the first quarter of fiscal 2022. The overall number slipped year-over-year from the record figures posted by the group companies last year.
The group generated a consolidated pre-tax income of 78.5 billion yen ($707 million) in the three months that runs between April and June. The net income came in at 48.5 billion yen ($437 million), a decline of 66 percent from last year. The RoE was lifted to 7.1 percent.
Wholesale Suffered from a US Client Going Bust
Nomura categorizes its businesses into three segments: retail, investment management, and wholesale. Though the first two generated better numbers, both in revenue and income, compared to last year, the wholesale division dragged down the consolidated figures.
But, the decline in wholesale was expected as Nomura, along with a few other global financial giants, officially disclosed the losses they suffered as an unnamed US hedge fund client went bust.
"This quarter, we finished unwinding all our positions related to transactions with a US client," said Kentaro Okuda, Nomura President and Group CEO.
Meanwhile, from retail, the Japanese group obtained a net revenue of 85 billion yen in the quarter, which is 12 percent down quarter-over-quarter, but gained 5 percent year-over-year. The pre-tax income from this stream came in at 19 billion yen, a yearly increase of 26 percent.
The performance of the retail division was pushed by the company's efforts to grow its client assets that touched a record high of 127 trillion yen at the end of the quarter. Furthermore, the number of retail clients on the platform also jumped, and the net inflows each month turned positive.
The investment management division shined in the quarter with a 60 percent yearly jump in net revenue and also doubling the profits. 
"A robust quarter in the newly established Investment Management division supported overall performance as our efforts to strategically enhance services in the private domain, strengthen our asset management advisory functions and enhance sustainability related businesses yielded results," Okuda added.
Source: Read Full Article