Ripple CEO's Rousing Speech at 'The Proper Party' in NYC: 'This Village Beat the Bully'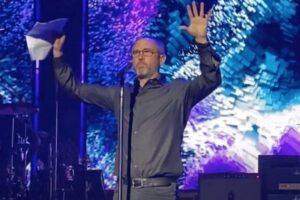 Last night, in front of a packed, jubilant crowd consisting of Ripple employees and members of the XRP Army, Ripple CEO Brad Garlinghouse gave a rousing speech in which he gave a special shoutout to several people who had provided invaluable help/support to Ripple, himself, and the XRP community.
It all started on August 28 when Garlinghouse set September 29 as the date for the "proper victory party" in New York City:
The victory he mentioned was a reference to Ripple's partial victory over the U.S. Securities and Exchange Commission (SEC) on July 13, which is when District Judge Analisa Torres stated that XRP, as a digital token, is not inherently a "contract, transaction, or scheme" that fulfills the Howey requirements of an investment contract.
Just hours before "The Proper Party" got started, the Ripple CEO showed off his new XRP tattoo (which is on his upper right arm):
As you would expect, the line of people (many of whom had come there from other countries) waiting to get into the party was massive:
During his highly anticipated speech, Garlinghouse acknowledged the invaluable contribution of several people whom he said "deserved a ton of recognition." These included Ripple's General Counsel Stuart Alderoty (whom he called "a rock"), Ripple's Vice President of Litigation and Employment Deborah McCrimmon ("she beat the SEC"), attorney John Deaton (whom he called "a ray of sunshine"), and Ripple CTO David Schwartz.
He also said:
"One thing I think we all learned is that it does take a village to fight a bully and this village beat the bully!"
https://youtube.com/watch?v=nm5grQnpOPM%3Ffeature%3Doembed
Source: Read Full Article