'Inside a dark tunnel': Asylum seeker family's life in limbo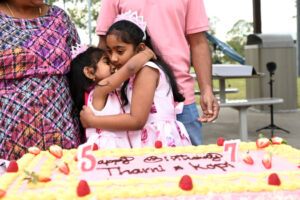 Save articles for later
Add articles to your saved list and come back to them any time.
The seasons changed but our lives in the Melbourne detention centre stayed the same. I was beginning to lose hope. I felt like I was inside a dark tunnel and could see no way out. It was hard to stay positive while living a life in limbo, especially with two young children confined in a small space and being watched all the time. I thought that I was going mad. I was struggling to stay a good parent when I myself had no control over my life. I couldn't pretend, even for five minutes, that I was OK for the sake of our children. I couldn't play with them for more than a few minutes or concentrate on anything. My children's suffering made me feel guilty and this was eating at me.
The Nadesalingam family: Tharnicaa, Nades, Priya, and Kopika.
As months rolled by, Kopi started to behave strangely. We noticed that sometimes she was talking to herself or pulling out chunks of her own hair. At other times, she was still biting her arm. She was also becoming aggressive towards us and her baby sister. One day, I tried to discipline her for screaming, but Nades told me to stop. He reminded me that Kopi had experienced the real world outside until she was two-and-a-half years old. She was now stressed from being locked up.
From that day on, Nades started to play with her and Tharni, often becoming one of them. He'd be rolling on the floor, playing hide-and-seek or imaginary hopscotch, and shouting with excitement like a four-year-old! He got the visitors to bring colouring pens and paper, and spent time drawing and painting with the children, telling them Tamil folk stories that kept them mesmerised. Over time, I started to see a difference; Kopi was somewhat becoming her normal self again, and so was Nades. But Tharni was not doing so great. She was growing up in the confines of a cabin with limited sunlight, poor nutrition and stressed-out parents.
First, I noticed cracks appearing in her front milk teeth, and soon they began to discolour. I asked her to be taken to the International Health and Medical Service. It was located inside the centre – the Melbourne Immigration Transit Accommodation or MITA, but a few minutes' drive away. The doctor there said this wasn't unusual in baby teeth and nothing to worry about. But over the next week, her front two teeth started to dissolve. IMHS organised a trip to a hospital. There the doctors found both children were low in iron and vitamin D. The hospital staff looked after us very well and the doctor in charge there wrote a letter to MITA requesting that we be allowed to cook our own meals. They also said that Tharni's teeth needed treatment some time soon. Back in detention, some officials from some Commonwealth department came and interviewed Nades and me about Tharni's condition. It was like watching the same movie again; they asked us so many questions and recorded everything. As usual, nothing came of it, and we never heard from them again.
Whenever Tharni cried that her mouth was hurting, we'd ask the Serco guards to take us to IHMS. At IHMS, the doctor would give her some pain relief syrup and sometimes antibiotics and send us back to our cabin. If Tharni cried in pain in the night, we had to wait till the morning to see a medical officer at the IHMS. Nades and I asked IHMS medical staff several times for permission to take Tharni back to the Children's Hospital, but they told us we were overreacting and kept giving her pain relief. We weren't allowed to have any medication in our own possession, even for the children.
People rally outside the State Library in Melbourne to support Priya and Nadesalingam Murugappan and their Australian-born daughters, Kopika and Tharnicaa, in June 2021.Credit: Luis Enrique Ascui
This kept going until after her second birthday. One night, Tharni started vomiting. Because we were locked up inside our cabin, we banged on our door several times, but no one answered. It dawned on us that there was no one outside guarding our cabin. So we tried the landline several times, calling the reception, but no one answered the phone either. We didn't know what to do; it was a tough, sleepless night for Nades and me, taking turns to comfort little Tharni, who was vomiting and crying all night, and trying to call the front desk.
The next morning at 6am, when the guards came in for a head count, we told them about Tharni's condition. She was limp and not readily responding to us. Two hours passed before they brought in the nurse, who checked Tharni and administered pain relief syrup. We asked that she be taken to the hospital for a proper check-up. We were worried that she was seriously ill. The nurse agreed to organise transport and left.
We waited all day, but no one showed up. I kept ringing the reception, but still no one picked up. Tharni was lying terribly still with another high temperature, Kopi was crying and we were stuck within the walls. I was going crazy with worry and anxiety over my child. As 6pm approached, my frustration boiled over and I flew into a rage. I took the landline phone and the computer that were in our cabin, and smashed them on the floor. Honestly, I can't even remember doing it. The computer was not connected to anything; it had been sitting there for show.
It worked. The sound immediately brought all the guards into the cabin. The guard in charge came very close to me, as if he was about to hit me. "Don't you dare come near me!" I screamed. "You've damaged government property!" he angrily shouted. That made me so mad. Here was my baby, almost lifeless, and all he cared about were objects. "If you had taken my daughter to hospital when I asked you to, this wouldn't have happened!"
Tharnicaa Nadesalingam (centre) celebrates her fifth birthday with her parents Priya and Nades and her sister Kopika on June 12, 2022 in Biloela, Queensland.Credit: Getty
Finally, Serco transported us to the children's hospital. But it was too late. Tharni's top front teeth were so bad that they told us they would need to remove all four of them. This made me very upset. She was already so skinny and couldn't eat many solid foods, and we couldn't simply go grocery shopping for the food she could eat.
What made it all worse was that they didn't remove the teeth immediately. We had to wait months while Tharni struggled with more infections. We weren't told why there was a delay but eventually, she had surgery. Nades and I had to make the decision on who went with Tharni and who stayed to look after Kopi, as she couldn't be alone in detention. This was another time I thought about the basic rights we lost when we were taken from Biloela.
During our second winter in Melbourne in MITA, an extra Serco staffer was allocated to monitor me as they thought I was emotional. That made no sense to me – of course I was emotional. I was a mother in distress over her child. I was then firmly encouraged to visit a mental health nurse. She was kind and understood why I behaved like that. After that, I was taken "off watch" and the extra guard was removed. Serco was now allowed to entrust us with the recommended doses of children's pain relief medicine so we could administer it ourselves, but even this would be temporary.
Every step inside MITA to parent our girls was a battle to be fought, and I was becoming exhausted. The only thing that stopped me from going mad was Nades and the support we were getting from the wonderful Australian community. By mid-August Home to Bilo co-founder Angela Fredericks' petition had gathered over 100,000 signatures. Many people from all around Australia were supporting the movement started by our community. Even some of prime minister Scott Morrison's own MPs were speaking in support of us. People were holding vigils in Biloela and Melbourne. All this gave me something I hadn't had much of till now. Hope.
This is an edited extract from Home to Biloela by Priya Nadesalingam with Rebekah Holt, Allen & Unwin, October 2023.
Most Viewed in National
From our partners
Source: Read Full Article