Safemoon Community Waiting For V2 While Also Loving The Bitrise Coin Staking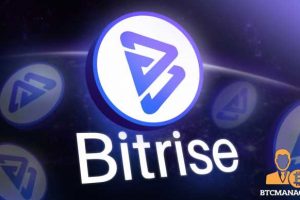 – Bitrise Staking shares 80% APY of the generated staking revenue
– Staking rewards paid in BUSD
– Multiple products in 120 days of launch
Safemoon V2 is expected to launch any time from now, and the community cannot wait to see the impact the protocol upgrade to V2 will bring. Already, Safemoon token has not been doing very well in the crypto market and the latest Bitmart hack, where Safemoon lost assets, made things even worse as the token price tumbled for a while.
Safemoon crypto community is very optimistic that the V2 launch will breathe a new life into the plummeting token. Many investors are still holding Safemoon token hopes that the upgrade will bring back the glory to this once popular token and could break the current all-time high price set in April 2021.
But the widely anticipated V2 launch has not stopped Safemoon community from investing in other highly potent coins. A huge number of this community has shown interest in Bitrise coin, a still mooning crypto that is already attracting thousands of crypto investors. The recent launch of the Bitrise coin staking has seen the number of Safemoon community members joining the coin increase significantly.
Bitrise is a DeFi project that is developing a product almost similar to Safemoon. Both are DeFi projects, but Safemoon launched almost 5 months earlier, but Bitrise has accomplished a lot despite being a newcomer. The Crypto community says Bitrise is the toughest Safemoon competitor and has been outdoing the latter in many ways.
Launched at the end of July, Bitrise has achieved so much in just 120 days. Unlike most of the DeFi projects, the team has managed to have a total of five products in just 120 days of launch. The teams developed Bitrise Audits, Brise wallet, Bitrise Swap, Bitrise Staking, and also listed on 5+ tier-2 exchanges. Crypto investors can now trade $BRISE at MEXC Global, LBank, Bitmart, among other exchanges. The fast accomplishments are attracting many crypto investors, including Safemoon community members.
But it is the Bitrise coin staking is attracting thousands of new buyers joining Bitrise coin. The platform is offering very attractive staking rewards. An 80% APY of the revenue generated by the products on the Bitrise ecosystem is shared among staked tokens. In addition to that, Bitrise has multiple products on its ecosystem that will generate revenue. This is why more Safemoon members are joining the coin today.
Safemoon V2 launch anticipation is building up among the community. The new protocol will increase the quality, security, and accessibility of Safemoon as well as upgrade token consolidation. But the upgraded protocol will have to make the token more competitive for the investors to gain.
At the moment, Bitrise coin is soaring high with over $25m worth of $BRIDSE staked in just a matter of days. More Bitrise products are coming up, which will make it even a tougher Safemoon competitor. For more information about Bitrise coin, check out the following platforms:
Website: www.bitrisetoken.com
Telegram: t.me/bitrisetoken
Coinmarketcap: https://coinmarketcap.com/currencies/bitrise-token/
Related posts:
Source: Read Full Article