SENSES Mystery box drop is LIVE on Crypto Dot Com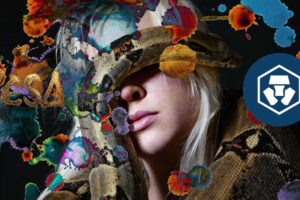 Own the mystery.
Take the journey.
Be rewarded.
Come to your Senses.
WE ARE LIVE
The SENSES drop features 12 stunning artworks made with models mixed together with paint into a powerful NFT fine art combination. The photographs are carefully curated from some of the best shots from 2008-2023.
The series aims to return the viewer back to a bodily poetic experience of our sensory world. The boxes are priced at 120 usd for the still works, and Shine (motion) will be priced at 200 usd.
The foundations of the project took 15-years to build, and producing the works requires high efforts from models, studio bookings to painting for each individual handmade 1/1 piece.
1️⃣ Access: VESA // Blockchain Valley Virtual Metaverse gallery party later in the year
2️⃣ Sneak peek at BC Virtual before the crowds
3️⃣ Collector private Telegram group for high-level networking with art drops
4️⃣ Chance at a 1:1 Zoom session with VESA
— Crypto.com NFT (@cryptocomnft) May 11, 2023
Blockchain Valley Virtual is building a mystical Chichen Itza metaverse gallery for VESA, where many of the SENSES works will be featured. The above short demo showcases some of the outside, leaving the inside accessible only to NFT holders.
Flash poem: The very firing mechanisms behind our biological signals, the essence of our motivation, needs us to receive gifts through a sacrifice. No droplet of water is sweeter than the one on the lips of a parched man.
"Gift" is the 35th released piece in the Senses series made with model Sofie. Shot in 2010 and compiled in 2022.
GM❤️
Today I started my day with acquiring 2 pieces from one of the OGs in digital art scene. @artbyvesa is in digital art for 14 years with great success.
His works are collected by some of the most influential people in blockchain technology.
A great honour for me. ❤️ pic.twitter.com/FAuSL7S8Wz
— mondoir (@mondoir) December 13, 2022
The mystery box drop, on top of the art, is packed with utility:
1. Art Drops
2. $VESA Coins drop which will get work for voting and experience access later on
3. Access to a metaverse party to all holders
4. One winner of 1 to 1 Zoom session with the artist
5. Private Telegram group for holders
VESA promoting the drop on the main stage of Tmrw Conference in Belgrade last Saturday.
Description: Come hither, Eve, discreetly discover. Thin whisper of a difference that turns your deepest wishes into a ball and a chain.
Veil is the 36th released piece in the Senses series made with model Jessica and snake Squishy. Shot in 2011 and complied in 2023.
A previous News BTC article on to go deeper into the substance of these works.

Check out the first 30 1:1s on SR from the link
The Series has a lot planned and will continue for years to come.
VESA Digital is building seven metaverse galleries with amazing partners.
We will use these galleries as event places for many of the image auction drops and public avatar events to showcase collectors works and access VIP events.
Partners below, of which the Superworld Luxor gallery and Crypto Voxels are already online.

Link to dedicated page
See you at the drop!
V E S A
Crypto & NFT Artist
All links to physical, NFTs, and more below
http://linktr.ee/ArtByVesa
Source: Read Full Article