US DOJ Ramps Up Crackdown on Crypto Exchange, DeFi, Mixers – Coinpedia Fintech News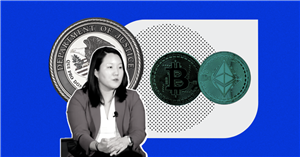 Crypto companies in the US are facing yet another obstacle as the Department of Justice's national cryptocurrency enforcement team (NCET) ramps up its crackdown on bad actors in the market. With the appointment of Eun Young Choi as director of the team, the DoJ is setting its sights on crypto exchanges, mixers, and DeFi platforms that facilitate criminal activities such as money laundering.
This move comes as Ripple and Bittrex struggle with lawsuits, and Coinbase shifts its operations out of the country. The crypto industry in the US is in for a rough ride ahead.
US DOJ's NCET Director Vows to Crack Down on Crypto Industry's Bad Actors
The US DOJ's NCET, led by Director Eun Young Choi, is on a mission to take down crypto exchanges, companies, and mixers involved in crimes that harm the crypto market, like money laundering. As crypto crimes continue to rise, Choi promises a crackdown on bad actors in the industry.
"But on top of that, they're allowing for all the other criminal actors to easily profit from their crimes and cash out in ways that are obviously problematic to us. And so we hope that by focusing on those types of platforms, we're going to have a multiplier effect."
The DOJ intends to convey a deterrent message to crypto businesses that violate anti-money laundering or client identification requirements and fail to create adequate compliance, cybersecurity, and risk mitigation practices. The New York State Department of Financial Services (NYDS) has recently stepped up its enforcement of these rules against cryptocurrency companies.
The DOJ will specifically target chain bridge thefts and hacks in the DeFi space. Attacks on DeFi have increased over the past few years, and investor losses have reached billions of US dollars.
Also Read: Bittrex Global Exchange Review: A simple straightforward cryptocurrency exchange
US Has Toughest Stance Against Crypto Globally
The DOJ's crypto enforcement unit, led by the Biden Administration, is taking a hardline stance on the crypto industry, making it one of the toughest globally. Following the FTX crisis, regulators like the US SEC have been scrutinizing crypto exchanges, with Binance and Coinbase among those targeted.
Binance and its CEO "CZ" were charged by the US CFTC for violating commodities laws and non-compliance with regulations. The SEC is reportedly on the verge of taking enforcement action against Binance or its US arm.
Source: Read Full Article