The SEC Has Engaged With Exchanges Over Spot ETFs': Reports – Coinpedia Fintech News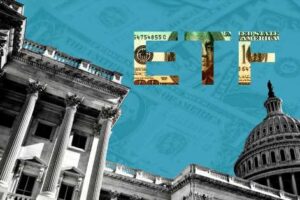 In recent developments, Eric Balchunas, Bloomberg's senior ETF analyst, took to social media and opened up about the ongoing discussions between the U.S. Securities and Exchange Commission (SEC) and exchanges regarding spot Bitcoin ETF applications.
Balchunas noted that the SEC's Trading & Markets division has been actively involved in talks with exchanges this week, specifically addressing 19b-4s related to spot Bitcoin ETFs.
The SEC is reportedly advising exchanges to opt for cash creates, as opposed to in-kind transactions, and has encouraged them to submit amendments in the coming weeks. While not entirely unexpected, this engagement is viewed as a positive sign for the industry.
Following these latest developments, the price of Bitcoin experienced an $800 spike. Balchunas explained that the SEC's preference for cash creates, makes sense because broker-dealers are restricted from dealing directly in Bitcoin.
Opting for cash creates, places the responsibility on ETF issuers to transact in Bitcoin, eliminating the need for broker-dealers to involve unregistered subsidiaries or third-party firms when dealing with Bitcoin. 
He wrote on X, "Only 2-3 filers had planned cash creates, the rest wanted to do in-kind. So may have to adjust or risk delay. Anyway, this doesn't change our 90% odds up or down but is good sign the process marching and SEC has a path fwd in the plumbing that they are comfortable with."
Balchunas pointed out that, initially, only 2-3 filers had planned to use cash creates, while the majority preferred in-kind transactions.
This may necessitate adjustments for those seeking to adhere to the SEC's guidance or face potential delays in their applications. He clarified that while these developments don't significantly alter the 90% probability for or against spot Bitcoin ETF approval, they indicate positive progress in the SEC's approach and comfort level with the evolving landscape.
Adding to the conversation, ETF analyst James Seyffart noted that the latest update on the spot Bitcoin ETF situation doesn't bring groundbreaking changes but hints that progress is indeed ongoing, signaling forward movement in the regulatory process.
Source: Read Full Article