US DOJ Seizes 7 Seven Domain Names Used in "Pig Butchering" Crypto Schemes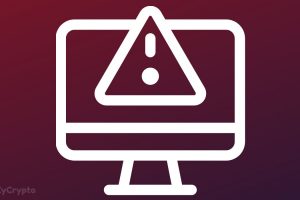 The U.S. Attorney's Office for the Eastern District of Virginia has seized seven domain names used in committing "pig butchering" cryptocurrency crimes.
According to a Monday statement by the Department of Justice, the crimes have been running from as far back as August 2022, when scammers defrauded five victims in the U.S. using domains spoofed to look like those of the Singapore Monetary Exchange. 
"Pig butchering" is a scheme where scammers lure victims on dating apps and social media websites or by sending random messages masquerading as a wrong number. Once trust is established, a victim(pig) is redirected to fraudulent cryptocurrency investment platforms, where they are persuaded to invest before siphoning their funds. This scheme operates along similar principles with traditional scammers who convince victims to invest small amounts into crypto over time before stealing that assets-fattening the pig before butchering it.
"The scammers convinced the victims that they were investing in a legitimate cryptocurrency opportunity. After the victims transferred investments into the deposit addresses that the scammers provided through the seven seized domain names, the victims' funds were immediately transferred through numerous private wallets and swapping services to conceal the source of the funds," the statement read. As a result of the scheme, the victims are said to have lost over $10 million.
While law enforcement agencies were yet to make any arrests at the time of writing, the DOJ requested other victims to provide information regarding their encounters with such scammers.
DOJ Raises Alarm Over Evolving Scam Tactics
With crypto firms strengthening their platforms' security, "pig butchering" cryptocurrency scams have become prevalent, causing significant losses for victims. These scams are highly successful because of the intimate conversations between the scammer and the target. In September, Delaware law enforcement authorities froze the accounts of 23 individuals involved in crypto romance scams.
According to a report by blockchain security firm CipherBlade, "tens of billions" of US dollars worth of cryptocurrency was lost to pig butchering scams in 2021 alone. Recently, the New Hampshire DOJ issued guidelines on how to stay safe from falling victim to romance scams. The press statement urged residents to limit the information they provide publicly on social media websites and avoid clicking any links sent to them online by any person they do not know or have not met in person.
Source: Read Full Article