Will Elon Musk Work With Vitalik Buterin On Dogecoin Update? This Crypto Pundit Says It's Possible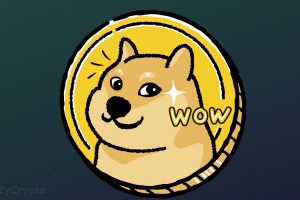 David Gokhshtein, one of the well-known names in the crypto industry, has shared on Twitter that he sees Ethereum co-creator Vitalik Buterin and Tesla/SpaceX/Twitter chief Elon Musk joining hands and working on upgrading meme king Dogecoin (DOGE).
Gokhshtein is confident that these two cryptoverse bigwigs will, however, not work together on bitcoin.
Is An Elon-Buterin Dogecoin Collaboration Coming Soon?
David Gokhshtein expects Dogefather Elon Musk to work with Vitalik Buterin to improve Dogecoin (DOGE).
The former U.S. Congressional Candidate and founder of Gokhshtein Media possibly concluded this following comments made about the Shiba Inu-themed meme coin by Buterin. Last September, he proposed that Doge switch from its current proof-of-work (PoW) security system to proof-of-stake (PoS) using Ethereum's code. The Ethereum whiz reiterated this while speaking at the Messari Mainnet Summit 2022 in September.
Interestingly, the Dogecoin Foundation was reinstated last October, with the addition of Buterin and Tesla representative Jared Birchall as advisers. At the time, Buterin's father, Dmitry noted that his son's inclusion was a positive development as it could help DOGE become a better coin.
Ethereum recently transitioned from energy-intensive PoW to PoS, a consensus mechanism not reliant on accumulating specialized mining computers, after a flawlessly executed Merge event.
Elon Musk, on the other hand, has been working with DOGE devs for years now to make the canine-inspired cryptocurrency a greener, cheaper alternative to bitcoin. Market pundits now expect the electric-car-tycoon-turned-Twitter-owner to soon incorporate Dogecoin into the social media giant after his dramatic $44 billion takeover. Up to now, Musk's hands-on involvement with the crypto that started out as a parody has been a mystery.
While Musk seems keen to take Dogecoin to the moon, we shouldn't expect him to work on the benchmark cryptocurrency with Buterin or any other industry leader.
Musk Unlikely To Ever Work On Bitcoin With Buterin
Although Dogecoin was created back in 2013 as a riposte to bitcoin, Musk has unequivocally turned his back on the market lodestar. According to Gokhshtein, the world's richest man would not be interested in partnering with Ethereum's Buterin to work on bitcoin.
Despite promising that Tesla would restart BTC payments once bitcoin mining became a greener industry, Musk never showed the bellwether cryptocurrency the same love he originally did during the time when his electric car company purchased $1.5 billion worth of the asset.
Gokhshtein reckons that Musk's goal is to turn the "joke coin", which has been soaring under his patronage, into "something serious". But despite his heavy endorsement, the meme coin is currently changing hands 87.9% down from its May 2021 all-time high price of 73 cents.
Source: Read Full Article