YFI Token in Freefall: 37% Drop and $4.7 Million Liquidations in 24 Hours – Coinpedia Fintech News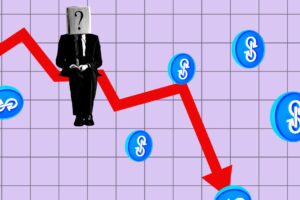 YFI token plummets over 37% in a day, triggering $4.7 million in liquidations.
Trading data shows divided investor sentiment with fluctuating long and short positions.
Recent severe drop in YFI's value underlines the crypto market's unpredictability and risks.
Yearn Finance (YFI) token has experienced a significant market downturn. Data from CoinGecko reveals that within the last 24 hours, YFI's value plunged over 37%, a staggering loss that sent ripples through the cryptocurrency community. This sharp decline resulted in more than $4.7 million worth of liquidations, underscoring the crypto market's volatility.
Analyzing the Impact
YFI, known for its significant role in the DeFi (Decentralized Finance) sector, has seen a fluctuating journey. After reaching a remarkable high of $91,000 during the bull market of 2021, the token faced a severe price correction, dropping to a yearly low of $4,500. This recent price movement, however, marks a new low for the token, raising concerns among investors and traders alike.
The current trading activity surrounding YFI has been intense. Contracts for the token once soared to a value of $160 million, indicating a strong market presence. Yet, the latest downturn has seen a significant decrease in positions across major trading platforms. The derivatives data for YFI shows a complicated picture, with a mix of long and short positions, suggesting a divided sentiment among traders.
Binance and OKX have reported varying long/short ratios for YFI. While Binance's YFI/USDT pair shows a top trader long/short ratio of 1.7785, OKX's data points to a slightly less optimistic 1.61. These figures indicate the traders' divided stance on the token's future.
A Closer Look at the Liquidation
The 24-hour period saw a total of $5.04 million in YFI liquidations, with long positions bearing the brunt of the impact at $3.47 million. Short positions, meanwhile, faced a significant but comparatively lower amount of $1.57 million in liquidations. This data highlights the high-risk environment that YFI traders are navigating.
The current market situation for YFI is complex. After rallying to $11,000 just last week, the token faced a quick rejection, indicating strong bearish control. Although there was a breakout from its downtrend, reaching a high of $9,000, the recent plummet has undone much of this progress. At the time of writing, YFI's value stands at $9,153, down by 37% in the past twenty-four hours.
Source: Read Full Article