Credit Suisse Stock Down On Q4 Loss, FY23 View For Substantial Pre-tax Loss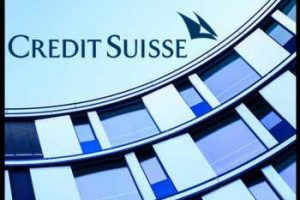 Shares of Credit Suisse Group AG were losing around 9 percent in the morning trading in Switzerland as well as in pre-market activity on the NYSE after the banking major said it sees substantial loss before taxes in fiscal 2023 after reporting narrower loss in its fourth quarter with lower expenses, despite weak revenues.
Separately, Credit Suisse announced the acquisition of Klein Group LLC, the investment banking business of M. Klein & Co. LLC, for $175 million. Following the deal closure, anticipated in the first half, the business will be fully integrated into CS First Boston.
The acquisition is expected to be a milestone in the carveout of CS First Boston as an independent capital markets and competitive advisory led business.
In addition, Michael Klein has been appointed Chief Executive Officer of Banking and CEO of the Americas, as well as designated CEO of CS First Boston. He will join the Executive Board and report directly to Group CEO Ulrich Korner.
For the year 2023, Credit Suisse's projection of substantial loss before taxes reflects the adverse revenue impact from the previously disclosed exit from non-core businesses and exposures as well as, in particular restructuring charges related to cost transformation.
In fiscal 2022, pre-tax loss was 3.3 billion Swiss francs, and adjusted pre-tax loss was 1.3 billion francs.
The company further said that the strategic actions taken to significantly reduce its risk profile would be reflected in the financial results and given the challenging market backdrop, it would expect the IB to report a loss in the first quarter.
The company said, "Our financial results for 2022 were significantly affected by the challenging macro and geopolitical environment with market uncertainty and client risk aversion. This environment has had an adverse impact on client activity across all our divisions. While we would expect these market conditions to continue in the coming months, we have taken comprehensive measures to further increase our client engagement, regain deposits as well as AuM and improve cost efficiencies."
Further, for fiscal 2025, the Group continues to target a pre-Basel III reform CET1 ratio of more than 13.5 percent, while expecting to maintain a pre-Basel III reform CET1 ratio of at least 13 percent throughout the transformation period through 2025.
Credit Suisse also said its Board will propose a cash dividend of 0.05 franc per share for 2022, subject to shareholder approval at the 2023 Annual General Meeting.
In the fourth quarter, net loss attributable to shareholders was 1.39 billion Swiss francs was narrower than last year's loss of 2.09 billion francs. Pre-tax loss was 1.32 billion francs, compared to loss of 1.66 billion francs a year ago.
Adjusted pre-tax loss was 1.02 billion francs, compared to income of 328 million francs a year earlier.
Total operating expenses fell 31 percent year-over-year to 4.33 billion francs, mainly reflecting the absence of prior year's goodwill impairment charge as well as lower litigation provisions.
Net revenues fell 33 percent to 3.06 billion francs from last year's 4.58 billion francs. Adjusted net revenues dropped 32 percent from last year to 2.96 billion francs.
The results were hurt by a 74 percent drop in IB net revenues, on a USD basis; a 17 percent reduction in WM net revenues; a 28 percent decline in AM revenues; as well as a 20 percent decrease in SB net revenues.
Assets under Management or AuM was 1.29 trillion francs, compared to prior year's 1.61 trillion francs.
In Switzerland, Credit Suisse shares were trading at 2.95 francs, down 9.23 percent. In pre-market activity on the NYSE, the shares were trading at $3.24, down 9.50 percent.
For more earnings news, earnings calendar, and earnings for stocks, visit rttnews.com.
Source: Read Full Article