Gas giants clash with government over permanent price controls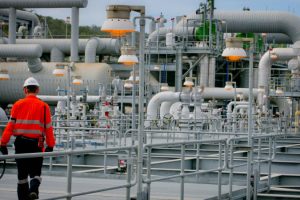 Deep divisions between gas producers and their biggest industrial customers are threatening to stall the Albanese government's efforts to shore up east-coast gas supplies and set new rules requiring the fuel to be priced at "reasonable" rates in the future.
In a bid to tame soaring electricity and gas prices, the government has introduced emergency laws capping the price of domestic gas at $12 a gigajoule for 12 months and intends to introduce a mandatory code of conduct to influence domestic gas availability and pricing beyond the end of the year.
Power retailers will start passing on rising costs to consumers in January.Credit:Bloomberg
The most controversial element of the proposal is a requirement that gas contracts are struck at prices that reflect production costs plus a margin allowing for a "reasonable" rate of return – a change that gas producers have slammed as a major intervention that ignores their exploration and development risks and will imperil the availability and affordability of gas for Australian consumers.
In its formal submission to Treasury on Wednesday, the oil and gas industry said the proposed code of conduct would deter investment in new gas fields at a "critical time", just as the competition watchdog warns more supply is needed as soon as this year to avoid shortfalls later this decade and prevent further price spikes.
"These are the worst possible reforms at the worst possible time," said Samantha McCulloch, of the Australian Petroleum Production and Exploration Association (APPEA).
"These interventions will reduce investment and ultimately increase the risk of gas shortages and further price increases."
However, business leaders in the manufacturing sector, where natural gas is widely used for energy and as a raw material, strongly backed the long-term pricing reforms to curb what they say are "unreasonably and unsustainably" high prices that have risen disproportionately to exploration and production costs.
A peak industry group led by the CEOs of ASX-listed manufacturing giants such as Incitec Pivot, BlueScope Steel and Brickworks, hopes the plan will help to "decouple" domestic gas from the soaring international prices producers are earning for export shipments of liquefied natural gas (LNG).
"The extraordinary disruption to global energy markets arising from Russia's invasion of Ukraine makes this code of conduct and reasonable price framework an essential part of the federal government's efforts to shield Australia from the extremes of energy scarcity and price spikes occurring globally," said Manufacturing Australia chief Ben Eade, whose members operate 500 factories nationwide.
"We urge swift development and implementation of the code and reasonable pricing framework, such that negotiations for future contracts can continue with greater sense of understanding and confidence in the rules, for all stakeholders."
'These interventions will reduce investment and ultimately increase the risk of gas shortages and further price increases.'
The Grattan Institute, a prominent policy think tank, said the introduction of a $12-a-gigajoule temporary price cap was "probably the best next step" that had been available to the government among some "hard alternatives". However, it described the reasonable pricing provision as a "dramatic move, with very difficult challenges and no obvious pathway back to a workable market".
"Determining risk premiums for gas exploration and development and assessing the economic life of new developments when there is so much uncertainty about climate policies are issues normally left to investors and their financiers to determine and markets to price," Grattan's submissions said.
"The government's first measure was appropriate and timely – a second measure is necessary, but the longer-term consequences suggest considerably more work is needed on the current proposal."
The federal government has said it is determined to force gas producers to sell into the local market at reasonable prices.
APPEA's submission calls for a "change in direction" in the design of the mandatory code.
"Permanently regulating prices can't factor in the complexities of the market and will only slash competition, distort the market and risk energy security," McCulloch said.
"Sellers and buyers will not make billion-dollar decisions when the economics of their investment may be derailed by the outcome of a future arbitration process that is outside their control and can dictate when, where and how much gas is supplied, and at what price."
The Grattan Institute's submission said the government's preferred model appeared to assume that the threat of arbitration would be enough to drive producers and customers to commercial agreements.
"It would be nice to believe this is viable, but it will depend on goodwill from both sides, a commodity presently in short supply," it said.
Meanwhile, the federal Greens are continuing to demand the Albanese government commit to block any new fossil fuel projects, which has been refused by Climate Change and Energy Minister Chris Bowen.
The Greens will hold crucial Senate votes on two elements of the government's industrial emissions-reduction policy, known as the "safeguard mechanism", which will force big industrial polluters to progressively lower their carbon footprint.
There has been speculation that if the government doesn't block fossil fuel projects the Greens could block the safeguard mechanism by voting against a bill from Bowen to enable polluters to trade carbon credits earned by switching to cleaner technology companies.
Greens leader Adam Bandt has said he is not opposed to companies earning carbon credits for cutting their pollution. His chief concern is the existing federal carbon credit scheme where big polluters offset emissions with credits generated by tree planting and forest protection projects.
However, the minor party could still force the issue over coal and gas projects by blocking in the Senate another element of the reform – by disallowing Bowen's proposed pollution caps.
"Labor wants to open new coal and gas mines under its safeguard mechanism. That's the main problem," Bandt said.
"Rather than debating whether planting trees or cutting a glass factory's emissions is the better way to 'offset' new coal and gas, the best solution is to not open new coal and gas mines at all."
The Business Briefing newsletter delivers major stories, exclusive coverage and expert opinion. Sign up to get it every weekday morning.
Most Viewed in Business
From our partners
Source: Read Full Article