Possible Catalysts Poised to Accelerate Ether to Outrageous Price Levels Identified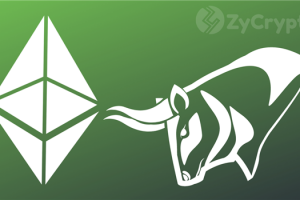 Key Takeaways
Ethereum proponents are bullish on Ether despite its recent struggles.
Some speculate that the flippening could soon happen if several factors play out in the market.
Standard Chartered, a British banking giant, also seems to share the same sentiment.
Ether, the native currency of the Ethereum blockchain network has had an impressive run this year. It is up 346% year to date despite currently being down about 24.6% from its all-time high of $4,372 reached in May. Ether is currently changing hands at around $3,336, down 6.6% in the last 24 hours and 16.9% in the last seven days.
However, the market sentiment around the second-largest cryptocurrency is quite bullish despite the volatility it has been experiencing along with the rest of the cryptocurrency market. Many cryptocurrency analysts expect the price of Ethereum to surge significantly in the coming days. Some even expect it to "flip" Bitcoin to become the largest cryptocurrency by market valuation.
These expectations by the market observers have been associated with several catalysts that they have discerned are already in play or will soon come into play in the Ethereum ecosystem as well as the broader cryptocurrency market. 
These catalysts are poised to send Ether to new price levels. Among them includes the increasing institutional demand for Ethereum. For the third week in a row, Ethereum saw inflows totaling $14.4B, while its market share is at a record 20%. There is speculation that apart from indirect institutional investment in Ethereum, there may soon be institutions buying into Ethereum staking when the network upgrades to utilizing a proof-of-stake protocol soon. 
Another factor is the growing international regulatory clarity for cryptocurrencies in general which is expected to boost Ethereum to new highs. Cryptocurrency regulation and adoption have been gaining attention recently among countries. El Salvador led the way by adopting Bitcoin as a legal tender on September 7th. Since then, there have been announcements by other countries including Ukraine and Panama that relate to the same subject. It seems many are becoming more friendly to cryptocurrencies in general.
Additionally, Ethereum is getting attention from industry giants who are looking to integrate the blockchain into their operations. Key industries that have already made significant moves include gaming, sports, entertainment, and even technology giants like Microsoft and Twitter.
It is based on this that Standard Chartered, a British banking giant, in its recent report noted that it is more bullish on Ethereum than on Bitcoin. The bank expects Ether to surpass Bitcoin in the long run and values Ether in a $26,000-$35,000 range for the long term meaning that it expects it to increase around 10x. This is because the bank analyzed Ether to be the blockchain equivalent of the entire finance market while it compares Bitcoin to being just one currency.
In general, Ether proponents expect that the supply and demand shocks that are likely to be experienced when PoS is activated and Ether becomes fully deflationary, combined with all the other factors mentioned above, will propel Ethereum to transcend Bitcoin.
Source: Read Full Article