Bitcoin Now Larger Than Facebook's Market Cap — 'Money Network More Valuable Than Social Network'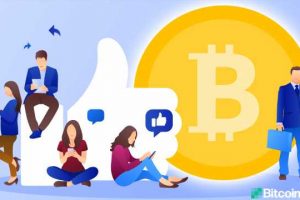 The surge in bitcoin's price on Friday has propelled the cryptocurrency past Facebook's market cap. Next, bitcoin stands to flip Tesla, Google, Amazon, Microsoft, and then Apple.
Bitcoin Surpasses Facebook in Market Cap
Bitcoin's frequent rise past all-time highs this week has made the size of the cryptocurrency larger than Mark Zuckerberg's Facebook.
The price of bitcoin broke another all-time high early Friday morning, reaching $41,970. At the time of writing, BTC stands at $41,147; its market cap is about $770 billion while Facebook's market cap is approximately $752 billion. Gemini cryptocurrency exchange's founder Cameron Winklevoss commented:
Bitcoin has surpassed Facebook in market cap. Makes sense that a money network would be more valuable than a social network.
The Winklevoss twins have been major holders of bitcoin since April 2013 when they bought $11 million worth of BTC, an equivalent of a full 1% of all bitcoins at the time. This came less than a decade after the twins sued Zuckerberg in 2004, claiming that the Facebook founder stole their idea for the social network platform while attending Harvard together. The twins won a $65 million settlement from that lawsuit and went on to found the Gemini cryptocurrency exchange.
Bitcoin developer and educator Jimmy song wrote, "Bitcoin just flippened Facebook. You still think Zuckerberg is the smart one and not Tyler or Cameron?"
Instead of embracing bitcoin, Facebook is helping develop the diem cryptocurrency, formerly known as libra. The social media giant first proposed the Libra project in June 2019. It was subsequently redesigned and a new whitepaper was published by the Libra Association, which is now called the Diem Association. The new design augments the Libra network by including single-currency stablecoins. In November, reports suggested that the new cryptocurrency could launch early this year, pending regulatory approval.
The Facebook-backed cryptocurrency has attracted the attention of many regulators worldwide. They are worried that since Facebook has about 2.7 billion users, the proposed "global stablecoin" will achieve scale without an appropriate regulatory framework, which could undermine their monetary systems. Christine Lagarde, president of the European Central Bank (ECB), recently downplayed bitcoin as a risk to financial stability but warned of the risks posed by global stablecoins, such as the diem cryptocurrency.
After flipping Warren Buffett's Berkshire Hathaway last week, bitcoin has risen in market capitalization above Jack Ma's Alibaba Group Holding, Taiwan Semiconductor Manufacturing (TSMC), Tencent, and now Facebook.
The next company to flip is Elon Musk's Tesla, which itself overtook Facebook on Thursday. Bitcoin actually surpassed Tesla's market cap briefly on the same day before Tesla's stock price took a leap in response to a prominent analyst lifting a bear call on the stock. The rise in Tesla's stock price also helped CEO Elon Musk become the world's richest man, overtaking Amazon CEO Jeff Bezos.
After Tesla, bitcoin stands to overtake Google, Amazon, Microsoft, and then Apple. In terms of asset classes, bitcoin is near overtaking silver but still has a way to go before overtaking gold. Abra CEO Bill Barhydt opined:
Bitcoin's market cap has just passed Facebook. There is a good chance it'll pass Apple this year and become more valuable than any company in the world.
Source: Read Full Article