Australia news LIVE: PM calls on Optus to pay for fresh customer passports; Labor says federal budget set to face $32b deficit;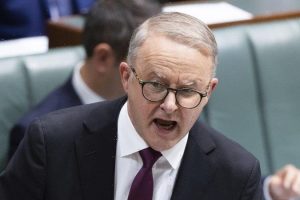 Key posts
Qld premier defends renewable energy plan
AGL expected to close major power stations earlier than anticipated
PM insists Optus pay for replacement passports as hack reveals legal holes
This morning's headlines at a glance
Qld premier defends renewable energy plan
Speaking of the Queensland government's pledge to end its reliance on coal by 2035, Premier Annastacia Palaszczuk has been doing the media rounds this morning.
Her second television appearance was on ABC News Breakfast. During that interview, the premier was asked about the concerns from the Queensland Resources Council.
Queensland Premier Annastacia Palaszczuk.Credit:Getty
The business lobby has pointed to recent blackouts and energy prices in Europe as reasons for the state government to tread carefully when it comes to its energy transition.
Here was Palaszczuk's response:
Well, in Europe, of course, there's a lot of reliance on gas coming in from Ukraine and parts of Russia, is my understanding. But what we're doing here very clearly is that the hydro dams get built. And then, as the hydro dams come online, that's when you start phasing down the reliance on coal-fired power stations.
Queensland will not be reliant on coal from its power stations by 2035. You know what – the world is going green and we need to take action on climate change. I've been up to the Torres Strait recently, and the islands are the subject of climate change. We're building sea walls as we speak. People are having to build their houses on seven-to-12-foot stilts above the ground because of the water coming underneath. Ancestral graves that the ABC has reported on are being washed away.
This is happening in Queensland. It's not just an island on the Pacific Ocean. It is happening to Queenslanders. To Australians. And we all have a duty to look after one another.
AGL expected to close major power stations earlier than anticipated
One of the nation's largest electricity generators is expected to announce the early closure of two major coal-fired power plants in Victoria and NSW, signalling the rapidly decreasing economic viability of Australia's ageing and polluting coal fleet.
AGL is expected to announce today that its Loy Yang A plant in Victoria's Latrobe Valley will close in 2035, a decade earlier than previously expected.
Loy Yang Power Station, in Victoria's Latrobe Valley, will close a decade earlier than expected.Credit:Eamon Gallagher
There are 575 workers at Loy Yang A, which includes operations, the mine and the power station. The giant brown coal plant generates about 30 per cent of Victoria's power each year.
The company will also confirm its Bayswater coal plant in NSW's Hunter Valley will shut between 2030 and 2033. This is up to three years earlier than previously announced.
The developments come after Queensland Premier Annastacia Palaszczuk announced her state would end its "regular" reliance on coal by 2035, aided by a $62 billion package to boost renewable energy supply.
More on Australia's energy transition here.
PM insists Optus pay for replacement passports as hack reveals legal holes
The government will overhaul the nation's cybersecurity and privacy laws as the Optus hack of almost 10 million people reveals how metadata laws can be used to let telecommunications firms bank huge amounts of customers' personal data.
Indicating fines for major data breaches will form part of the government's response to the hack, Prime Minister Anthony Albanese said there needed to be "clear consequences" when companies failed to appropriately secure customer data.
The fallout from the Optus hack has grown, with state and federal governments demanding the company pay for replacement documents.Credit:Brook Mitchell
"Clearly, we need better national laws after a decade of inaction to manage the immense amount of data collected by companies about Australians," Albanese told parliament yesterday.
"We are dealing with this issue, we know that it does need to be dealt with and we know that this has been an absolute priority for Australians."
Optus last night revealed that almost 37,000 Medicare numbers were exposed in the hack, with 22,000 of those expired, and said affected people could replace them through Services Australia.
Read the full story here.
This morning's headlines at a glance
Good morning and thanks for your company.
It's Thursday, September 29. I'm Broede Carmody and I'll be anchoring our live coverage for the first half of the day.
Here's what you need to know before we get started.
The federal government has pledged to overhaul the nation's cybersecurity and privacy laws in the wake of the Optus hack. The telecommunications giant last night revealed that almost 37,000 Medicare numbers were exposed in the hack. Of those, 22,000 have expired.
Lisa Visentin writes that Greens leader Adam Bandt has conceded that he should have responded to a written complaint sent to him by an Aboriginal elder.
AGL is expected to close two major coal-fired power plants in Victoria and NSW earlier than expected. Miki Perkins and Mike Foley have the full story.
The temporary cut to the fuel excise was abolished last night. Authorities are asking consumers to report any instances of price gauging.
And in case you missed it last night, Liberal senator Jane Hume has delivered an emotional speech flagging her change of heart when it comes to the issue of voluntary assisted dying. The Senate is debating a territory rights bill which would remove the restrictions on the ACT and the NT preventing them from passing legislation to allow voluntary assisted dying.
Most Viewed in National
Source: Read Full Article