British citizen arrested on terrorism charges over uranium discovery at Heathrow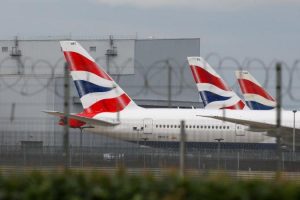 London: A businessman has been arrested on suspicion of terrorism over an alleged attempt to import radioactive uranium into Britain.
The British citizen was detained by counter-terrorism police after the discovery of traces of substance at Heathrow airport soon after Christmas in a consignment of scrap metal intended for an Iranian-registered business based in the UK.
The discovery was made at Heathrow AIrport on December 29.Credit:Bloomberg
He was questioned under Section 9 of the Terrorism Act 2006, which created an offence "of making or possessing a radioactive device or possessing radioactive material with the intention of using it" in the commission or preparation of an act of terrorism. The section is very seldom used.
Police last night insisted they had found no evidence of a plot and said that the incident was not believed to be linked to any direct threat to the public.
The arrest of the man, who is in his 60s, could affect already heightened tensions between London and Tehran after the execution of a UK-Iranian dual national charged with spying for MI6.
The Iranian regime has also been accused by British intelligence services of being behind at least 10 plots to murder or kidnap opponents on UK streets in the last year and follows a crackdown in Iran on protests that followed the death in custody of a young woman who had refused to wear a headscarf.
Britain has said the execution of Alireza Akbari (pictured) by Iran would not go unchallenged.Credit:KhabarOnline News Agency via AP
The UK is expected in coming weeks to sanction the regime's Islamic revolutionary Guard Corps, which is accused of sponsoring terrorist activity abroad.
The execution last week of Alireza Akbari, a former Iranian deputy defence minister with dual UK nationality, prompted the Foreign Secretary to summon Iran's chargé d'affaires to register his "disgust". Mr Akbari was charged with spying for MI6 amid claims he was tortured for 3,500 hours before being executed. Tehran's military support for Russia in its war with Ukraine has further angered the West.
In a statement issued last night, counter-terrorism police said the discovery of uranium "within a cargo package" at Heathrow on December 29 remained "clearly of concern", but insisted no material had been found at the arrested man's home that could pose a threat to the public.
Officers arrested the man at an address in Cheshire on Saturday morning and released him yesterday on bail until April following questioning.
Commander Richard Smith, who leads the Met's Counter Terrorism Command, said last night: "The discovery of what was a very small amount of uranium within a package at Heathrow airport is clearly of concern, but it shows the effectiveness of the procedures and checks in place with our partners to detect this type of material. Our priority since launching our investigation has been to ensure that there is no linked direct threat to the public."
The senior officer played down any public fears of an imminent threat.
Police said officers were called in after Border Force officials at Heathrow discovered the cargo contaminated with a "very small amount of uranium" during a routine screening.
The identity of the businessman remained unclear last night but it is suggested he is involved in a company importing scrap metal.
The uranium is thought to have been contained within metal bars that originated in Pakistan and had been placed in the hold of an Oman Air passenger jet at Muscat airport en route to London.
Senior police sources said the arrest was necessary for officers to rule out any wrongdoing, but remained insistent there was no threat posed by the discovery of the minute traces of uranium.
One said that it remained most likely that the metal bars were accidentally contaminated, rather than part of a terrorist plot that posed a threat to the UK. "The focus of the investigation is really to make sure there is no malign intent linked to this," they said. "Clearly the amount of uranium detected was very small but given the nature of the material the arrest was necessary."
The Telegraph, London
Most Viewed in World
From our partners
Source: Read Full Article