British tourists reported missing following Morocco earthquake found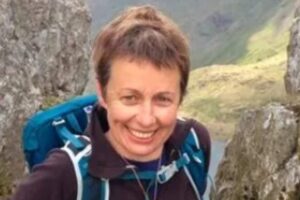 Pair of lost British tourists reported missing following Morocco earthquake are found to have been sleeping on the streets of remote village
Rebecca Calvert, 65, and Hilary Mckegney, 64, were in town Imlil when quake hit
Pair have been found safe and made way to the airport to fly back home 
Two British tourists reported missing following the devastating earthquake in Morocco have been found to have been sleeping on the streets of a remote village. 
Rebecca Calvert, 65, and friend Hilary Mckegney, 64, had not been in contact with family and friends since the catastrophic 6.8 magnitude quake hit the country on Friday, killing more than 2,000 people. 
Mrs Calvert's daughter, Katie, had taken to X – formerly known as Twitter – pleading with Foreign Secretary James Cleverly to send help to the town of Imlil where it was thought she was missing.
Mrs Calvert, of Windsor, Berkshire, was staying with Ms Mckegney, of Taunton, Somerset, at the Hotel Le Village du Toubkal.
Katie wrote: 'Our mother – Rebecca Calvert – is currently missing in Morocco, in town of Imlil, really close to the earthquake. She was staying at Hotel Le Village Du Toubkal. We are sick with worry and need your help in finding her and bringing her home safely.
Rebecca Calvert, 65, of Windsor, in Berkshire, had not been in contact with friends and family after the devastating earthquake hit Morocco
Mrs Calvert was with her friend Hilary Mckegney (pictured), 64, of Taunton, Somerset. The pair  were staying at the Hotel Le Village du Toubkal in Imlil
'I've called the foreign office and reported her missing, but they can't tell me that people are on the ground searching in this specific region, and this is an incredibly time sensitive situation. From reports it seems rescue efforts won't reach within time to help .
'Please urgently send British resources to the specific region (Imlil), and urgently provide an update on their whereabouts. At least two British nationals were stating there. If we get there quickly we could save them.'
The Foreign Office told Mrs Calvert's husband, Will, that the town was unscathed in the earthquake. 
The 66-year-old, who is the director of Windsor and Eton Brewery, told The Mirror: 'We finally heard from my wife [yesterday]. They slept with the locals in the streets.'
It is thought the pair flew home today. 
Her son, Callum, wrote on X today: 'We've now heard from Rebecca's travelling party and she's safe and well and currently travelling to the airport to return home.
'We so so appreciate everyone's support, including the foreign office, @AdamAfriyie and his Chief of Staff, and all the friends and strangers who have gone so far out of their way to help us. 
'Obviously this is an ongoing crisis and many others are still in need. I feel so deeply for everyone affected by the tragedy, and really hope that others in similar situations will be OK.'
The 6.8 magnitude earthquake in Morocco was the worst to hit the country in 60 years and has killed more than 2,000 people
Long queues were seen snaking out of Moroccan airports in the days after the earthquake hit
Windsor and Eton FC, where Mr Calvert is also listed as a director, posted an update on its Facebook page.
'Many of you may be aware that Willy Calvert's wife Rebecca and her friend were caught up very near the Morocco earthquake disaster,' they wrote. 
'We are so so pleased to let you all know that they are both safe and well.
'Willy has been so pivitol in helping create our new club and whilst our thoughts and hopes go to all those not so lucky in this terrible event, we at least can celebrate the fantastic news that Rebecca and friend are safe.'
Tourists are leaving Morocco in droves after the country was rocked by a devastating earthquake.
Morocco was hit with its worst earthquake in 60 years late on Friday night, bringing down buildings across the country and forcing citizens and tourists alike to sleep in the streets as fears that buildings would collapse on them grew.
Holidaymakers were seen leaving the stricken country in their thousands, with queues seen snaking out the main entrances at several Moroccan airports, including Marrakesh Airport. 
Source: Read Full Article