Putin hitman wanted as part of prisoner swap after killing dissident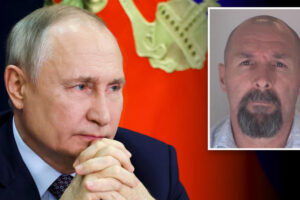 Save articles for later
Add articles to your saved list and come back to them any time.
Moscow is seeking the return of Vadim Krasikov, the hitman jailed in Germany for the assassination of a Chechen dissident as part of a prisoner swap, according to reports.
Krasikov's name has been raised by the Kremlin in negotiations with Western officials.
Although Putin has sought the return of other agents, Krasikov was identified as a top priority by the Russian leader.Credit: AP / Supplied
He is seen as vital in American efforts to secure the release of prisoners including Evan Gershkovich, a 31-year-old Wall Street Journal reporter accused of espionage and former US marine Paul Whelan who was convicted of spying charges in 2020.
Only a week ago Whelan was seen in a video on a Russian news channel. He is serving a 16-year term in a penal colony in the Russian region of Mordovia.
The Biden administration said the detention of both men, who it described as innocent, was politically motivated.
Krasikov, 58, was sentenced to life imprisonment in December 2021 for the "state-ordered killing" of Zelimkhan Khangoshvili, a Georgian national of Chechen heritage.
Khangoshvili was shot dead in a children's playground in Berlin's Kleiner Tiergarten park in 2019.
He had been targeted by the Russians since fleeing to Germany from Georgia in 2016. He allegedly led a 2004 raid by Chechens in which several security officials were killed.
Russia included his name on a list of the country's 19 most wanted terrorists which it sent to other countries, including Germany in 2012.
His application for asylum was rejected by Germany, but he was nevertheless able to remain in the country.
Krasikov, who was travelling on a false passport in the name of Vadim Sokolov, was caught trying to escape on an electric scooter, having dumped a bike and gun in the River Spree and discarding his disguise.
He was convicted thanks to fingerprints and DNA found by police on the discarded items.
Krasikov insisted he was an innocent Russian tourist with no connection to the Kremlin.
But German prosecutors, aided by the authorities in Kyiv and the investigative website, Bellingcat, established he was a veteran agent working for the secretive Vympel department of the FSB, the Russian security service.
Moscow condemned the trial, saying it was politically motivated, insisting that its citizen was innocent.
Within hours of Krasikov's conviction, Germany expelled two Russian diplomats.
The case was likened to the poisoning of Russian dissidents Sergei and Yulia Skripal in Salisbury in 2018.
According to the Wall Street Journal, Putin first sought Krasikov's release shortly after his conviction, reportedly tasking top security adviser Nikolai Patrushev to conduct the negotiations.
Although Putin has sought the return of other agents, Krasikov was identified as a top priority by the Russian leader.
In July US president Joe Biden confirmed he was interested in a prisoner swap for Gershkovich, but he did not elaborate further on the negotiations with the Kremlin.
Sergei Ryabkov, Russia's deputy foreign minister, said it would only discuss the fate of Gershkovich after his trial was completed.
It is understood that more negotiations are taking place which would involve swapping Western detainees held in Russia and Russians held in the West.
There has even been speculation that a deal could be reached to release imprisoned Russian dissidents, including opposition leader Alexei Navalny.
One major obstacle in negotiations involving Krasikov is German reluctance to release a man who was convicted of murder on its soil.
The Telegraph, London
Get a note directly from our foreign correspondents on what's making headlines around the world. Sign up for the weekly What in the World newsletter here.
Most Viewed in World
From our partners
Source: Read Full Article