Casualties after fireball hundreds of feet high erupts in Uzbekistan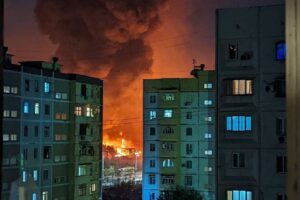 Enormous explosion felt 20 miles away hits international airport in ex-Soviet republic Uzbekistan: Fireball hundreds of feet high erupts above Tashkent amid fears of mass casualties, with buildings destroyed and untold damage caused to the airfield
 A warehouse at Tashkent Airport in Uzbekistan has exploded early this morning
Local reports describe a fireball hundreds of feet high destroying nearby homes 
A powerful explosion has rocked the capital city of Uzbekistan with reports of a fireball hundreds of feet high lighting up the night sky. 
The blast at Tashkent International Airport could be heard 20 miles away according to Uzbek news website Daryo, with nearby buildings destroyed and untold damage to the airfield.
An 'unspecified' number of people have also been taken to hospital with injuries according to the nation's health service.
Flights at the airport appeared to be taking off and landing as normal, data from flight tracking website FlightRadar24 showed.
But notice to airmen issued at 10.15pm GMT yesterday said a runway at the airport would be closed for takeoff and landing between 2am and 7pm today, but a segment would be available for taxis. It did not provide a reason.
A powerful explosion rocked Uzbekistan after midnight with reports of a fireball hundreds of feet high lighting up the night sky
A customs warehouse at the airport has exploded according to Uzbek news website Daryo said
Mobile phone footage captured the blaze in Uzbekistan, which reportedly stemmed from an explosion in an airport warehouse
The health ministry said that a 'fire' had been reported during the night at the warehouse, and that an unspecified number of injured people had been taken to hospital.
'At the moment, there are not any seriously injured among them. Right now, doctors are furnishing all necessary medical assistance,' the ministry said on Telegram.
'Emergency medical care is also being provided to people injured in the fire at the scene of the accident and in the surrounding apartments.'
Uzbekistan is the most populous of the central Asian former Soviet republics, and fires attributed to dilapidated equipment and poor adherence to safety standards are common there.
Accidents of this magnitude, however, are still rare.
According to a Daryo post on social media, the Ministry of Emergency Situations received a call that a fire had occurred due to a strong explosion at one of the warehouses located in the city's Sergeli district.
Fire and rescue crews and vehicles have arrived at the scene and are currently extinguishing the fire, the post said, adding details of injuries and deaths as a result of the fire were not yet known.
Source: Read Full Article