Covid UK news LIVE – Antibody tests show 1/8 people have already had coronavirus amid fears of school lockdown til APRIL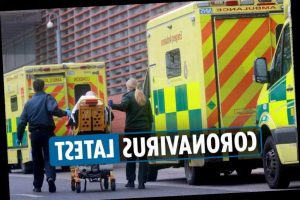 SCHOOLS will remain shut until after Easter despite millions having had the coronavirus vaccine by then, teachers fear.
Fears have been growing after both Health Secretary Matt Hancock and Foreign Secretary Dominic Raab suggested the lifting of lockdown wouldn't even begin until March once all over 70s have had the jab.
Despite claiming it is their priority, the government is refusing to say exactly how long after lockdown easing schools will be going back, leaving teachers convinced it won't be until after the Easter holiday.
The news comes as new figures show an estimated one in eight people in England had had Covid-19 by December, up from one in 11 in November,
Follow the very latest news, updates and analysis of the coronavirus crisis in our live blog below.
Lottie Tiplady-Bishop

TWO COPPERS COVID POSITIVE AFTER POLICING LOCKDOWN PROTEST

Two police officers have been struck down with Covid-19 days after they had to deal with protesters at an anti-lockdown demonstration.

The unnamed PCs became ill after the rally in Bournemouth, Dorset, are now self-isolating at home.

The male and female officers, aged 40 and 34 respectively, are said to be "really unwell" having been "knocked for six" by coronavirus.

The news has led to renewed calls for frontline police officers to moved up the vaccination priority list.

Lottie Tiplady-Bishop

WHICH REGION OF THE UK HAS THE MOST COVID ANTIBODIES?

The percentage testing positive for Covid-19 antibodies in each region was as follows:

Yorkshire and the Humber 16.8%
London 16.4%
North West 15.1%
West Midlands 14.3%
East Midlands 12.7%
North East 12.5%
South East 8.3%
East of England 8.1%
South West 4.9%

REGIONAL APPROACH COULD BE TAKEN TO SCHOOLS RE-OPENING

Deputy chief medical officer Dr Jenny Harries has suggested that a regional approach may be taken when deciding how schools in England reopen.

When asked whether there could be a regional or phased system for reopening schools after the latest lockdown, Dr Harries said: "I think it's likely that we will have some sort of regional separation of interventions."

She added: "So I think on the broad epidemiology it is highly likely that when we come out of this national lockdown we will not have consistent patterns of infection in our communities across the country.

"And therefore, as we had prior to the national lockdown, it may well be possible that we need to have some differential application."

Lottie Tiplady-Bishop

ALDI WORKERS BAG WELL-DESERVED PAY RISE

Discount supermarket chain Aldi has delivered a new year pay rise for its 30,000 store staff and revealed plans to recruit another 4,000 shop workers over the year ahead.

The German-owned retailer said it will increase its national minimum hourly pay rate for store employees to £9.55 from February 1, from £9.40.

Those who work inside the M25 will earn at least £11.07 an hour, up from £10.90.

Lottie Tiplady-Bishop

MORE THAN 6,000 DEATHS IN FIRST WEEK OF JAN

A total of 6,057 deaths registered in England and Wales in the week ending January 8 mentioned Covid-19 on the death certificate, according to the Office for National Statistics.

This is up from 3,144 deaths in the week to January 1 and is the highest weekly figure since the week ending April 24.

The ONS said the number of registrations will have been affected by the Boxing Day and New Year's Day bank holidays.

More than a third (34.1%) of all deaths registered in England and Wales in the week to January 8 mentioned Covid-19 on the death certificate.

Lottie Tiplady-Bishop

ONE IN EIGHT BATTLED COVID

Around one in eight people in private households in England are estimated to have had coronavirus by December 2020, according to the Office for National Statistics.

This is up from an estimated one in 11 people in November and one in 14 in October.

The figures are the proportion of the population who are likely to have tested positive for antibodies to Covid-19, based on blood test results from a sample of people aged 16 and over.

The ONS also found "substantial variation" between regions in England, with 17% of people in private households in Yorkshire & the Humber estimated to have tested positive for antibodies in December, compared with 5% in south-west England.

Lottie Tiplady-Bishop

ALMOST 100 INCIDENTS OF COVID-SPREADING THREATS TO COPS

Met Police Chief Dame Cressida Dick said there have been 97 incidents where someone has mentioned or threatened Covid before coughing at an officer, with 48 spitting attacks.

Some 126 people have been charged, with nearly two thirds receiving a custodial sentence.

The commissioner said three colleagues, none of whom were police officers, have died after contracting Covid-19, including a police community support officer last week.

Lottie Tiplady-Bishop

MET CHIEF 'BAFFLED' BY COP VACCINE ROLLOUT

Metropolitan Police Commissioner Dame Cressida Dick said she was "baffled" why frontline officers are not closer to the front of the queue to receive the vaccine.

She told LBC radio: "In cohort five to nine you have people in what I might call my age group and I am baffled really why, but obviously this is a decision that the Government's made so far on the basis of something called the JCVI (Joint Committee on Vaccination and Immunisation), who are experts.

"But in many other countries, police officers and law enforcement colleagues are being prioritised and I want my officers to get the vaccination."

Lottie Tiplady-Bishop

VETERAN SUN SNAPPER: 'JAB IS BEST GIFT'

Sun royal photographer Arthur Edwards, 80 — one of the first to be vaccinated — said: "The Covid jab is the best present you can give anyone at the moment. I'm delighted our amazing readers will be there to help make the experience as smooth as possible.

"They will be a part of Britain's history and in years to come they can tell their kids and grandchildren 'I was in the Jabs Army'."

Lottie Tiplady-Bishop

NHS CHIEF THANKS SUN READERS

The chief of the NHS has thanked Sun readers for their gallant efforts signing up to Jabs Army in their thousands.

Last night we smashed through our target of 50,000 volunteers.

NHS chief executive Sir Simon Stevens said: "Thank you to each and every Sun reader who has pledged their time to supporting the NHS in what is the biggest, fastest and most important vaccination programme in our history.

"We're off to a great start, delivering 140 doses a minute, and with more vaccines being made available to the NHS over the spring and summer too. Those volunteers not needed right now will be able to play a key role in helping NHS teams protect millions more people in weeks and months ahead."

Lottie Tiplady-Bishop

50K JABS ARMY SIGN UPS

Lottie Tiplady-Bishop

BORIS JOHNSON: 'JABS ARMY IS A CREDIT TO SUN READERS'

Prime Minister Boris Johnson heaped praise on Sun readers for their generosity and spirit.

He said: "Congratulations and wholehearted thanks to The Sun for smashing through your target and enrolling more than 50,000 people to join the Jabs Army.

"It's a great credit to your readers. Vaccinating the country is a huge national effort but with your help we will get there."

Lottie Tiplady-Bishop

MATT HANCOCK THANKS JABS ARMY VOLUNTEERS

Matt Hancock has thanked the brilliant 50,000 Sun readers who have signed up to Jabs Army.

Health Secretary Matt Hancock hailed Sun readers for "smashing the target" as our Jabs Army mission was accomplished.

Mr Hancock recorded his thanks during yesterday's coronavirus pandemic press conference.

He told the watching nation: "People are helping by being a community volunteer or signing up for clinical trials — 50,000 people who have now signed up for The Sun's Jabs Army. Smashing the target in the battle against this disease.

"I want to thank each and every one of you and The Sun newspaper for leading this effort."

Lottie Tiplady-Bishop

SUN SMASHES JABS ARMY TARGET 

The Sun is delighted to have smashed our Jabs Army target. 

More than 50,000 of our incredible readers signed up to the scheme, hitting 51,019 last night. 

On a momentous day for the campaign, we achieved the goal of helping the Royal Voluntary Service supply 50,000 volunteer stewards to the NHS vaccination programme.

Alahna Kindred

JAB LOTTERY

A Kent district is yet to vaccinate anyone over 80 – despite having the nation's worst Covid death rate.

Folkestone and Hythe residents are up in arms about the slow roll out of the life saving jab.

The pretty seaside area had a death rate of 265.5 per 100,000 people last week, Government figures show.

But yesterday the NHS admitted they were yet to inoculate any of the district's 112,000 inhabitants.

More than four million Brits elsewhere have had one dose.

Alahna Kindred

CLASS OUT

Fears are growing that schools will be kept shut until Easter – piling massive pressure on Boris Johnson to open them sooner.

Schools in Covid hotspots could also stay closed for longer than those in less afflicted parts of the country, The Sun understands.

The PM dramatically ordered all schools to shut until the February half term in a bid to get rocketing infection rates under control.

But he has refused to rule out extending the shutdown, and ministers yesterday indicated restrictions will only be gradually eased from around March.

School bosses said they reckon classes will stay shut to most kids until after the Easter holidays, which are at the beginning of April.

But Tory MP Robert Halfon urged the PM to put kids first and get them all back to class in February.

The chairman of the education select committee, said: "The government said that schools would reopen after the February half term.

"Everything possible should be done to keep to that date – for the sake of the children's education, mental health and safety.

"That is why ministers should prioritise school staff for the vaccine, and send in mobile units to jab them across the country."

Alahna Kindred

GRIM TALLY

The UK now has the highest death rate from coronavirus in the world, a new study has revealed.

Britain has overtaken the Czech Republic, which had seen the most Covid deaths per capita since January 11, according to the latest data.

The University of Oxford-based research platform Our World in Data found the UK is now in the top spot.

And with an average of 935 daily deaths over the past week, this equates to more than 16 people in every million dying each day.

The three other countries with the highest death rates are Portugal (14.82 per million), Slovakia (14.55) and Lithuania (13.01). 

The US, Italy, Germany, France and Canada all had lower average death rates than the UK in the week leading up to January 17.

Debbie White

599 MORE DEATHS

The latest figures showed a record 37,475 people were in hospital with coronavirus, while there had been a further 599 reported deaths within 28 days of testing positive for Covid-19 and 37,535 new cases.

The Prime Minister said decisions on loosening England's stay-home order will be based in part on progress in the vaccination programme.

The Government is on track to vaccinate around 15 million high-priority people across the UK by February 15, including health and social care staff, the elderly and people in care homes.

Once those vaccines have taken effect, around two to three weeks later ministers will consider whether lockdown measures can be eased.

Mr Johnson, on a visit to the manufacturing facility for the Oxford/Astrazeneca vaccine, said: "I understand completely that people want to get back to normal as fast as we possibly can. It does depend on things going well."

Debbie White

COVIDIOTS COULD FLOUT RULES

Scientists fear that millions of Brits will flout Covid lockdown rules once they receive a vaccine.

Sage scientists are worried that people who get jabs will stop social distancing and will ignore strict restrictions.

Minutes from a Sage meeting refer to a survey which found 29 per cent of people plan to relax their following of Covid rules once they receive a vaccine, the Telegraph reported.

The same survey found that 11 per cent of respondents will "probably no longer follow the rules" after a jab.

 

Debbie White

DONALD TRUMP LIFTS TRAVEL BANS ON EUROPE, UK & BRAZIL

US President Donald Trump has lifted entry bans imposed because of the coronavirus on most non-US citizens arriving from Brazil and much of Europe effective January 26.

The restrictions are set to end under a new proclamation from Trump the same day that new Covid test requirements take effect for all international visitors.

The restrictions being rescinded have barred nearly all non-American citizens who within the last 14 days have been in Brazil, the UK, Ireland and the 26 countries of the Schengen area in Europe that allow travel across open borders.

The US restrictions barring most visitors from Europe have been in place since mid-March, when Trump signed proclamations imposing them, while the Brazilian entry ban was imposed in May.

Debbie White

SMASHED IT! 50K JOIN THE SUN'S 'JAB ARMY'

The Sun's Jabs Army campaign smashed its target of recruiting 50,000 volunteers to help Britain's biggest-ever vaccine programme.

Thanks to our big-hearted readers, our goal was achieved in just an astonishing 18 days — with 51,019 signing up.

Health Secretary Matt Hancock hailed the incredible volunteers for "smashing the target".

And an impressed PM, Boris Johnson, added: "Vaccinating the country is a huge national effort but with your help we will get there."

Debbie White

HELL YEAR IN US WHERE COVID DEATHS 'SAME NUMBER AS AMERICANS KILLED IN WWII'

The US is preparing to mark a year of the Covid pandemic as fatalities near 400,000 – around the same number as died in the Second World War.

The grim milestone is set to be reached on Wednesday, when Joe Biden is set to be inaugurated as President, with about 3,400 Americans dying every day from the virus.

According to the Centers for Disease Control and Prevention, the disease began circulating on January 18 after being imported from China.

The first case was announced on January 21, 2020 – that of a 35-year-old man who had recently returned to Washington state from Wuhan, China.

Debbie White

UK'S GRIM COVID TALLY

The UK now has the highest death rate per million people from coronavirus in the world.

Britain has knocked Czech Republic off the top spot, according to the latest details from University of Oxford-based research platform Our World in Data.

With an average of 935 daily deaths over the past week, this equates to more than 16 people in every million dying each day.

The UK has seen more than 3.4milion infections – the equivalent of one in every 20 people – with another 37,535 new infections reported today.

There were another 599 more coronavirus deaths confirmed across Britain on Monday.

 

Debbie White

HIDDEN TOLL OF COVID

One in eight recovered Covid patients die within 140 days – with a third readmitted to hospital within weeks, a shocking study has found.

New figures found that of 47,780 people discharged from hospital in the first wave, 29.4 per cent returned in less than five months.

Of those readmitted, 12.3 per cent of them died, according to research from Leicester University and the Office for National Statistics (ONS).

The long-term effects of Covid-19 can cause survivors to develop heart problems, diabetes and chronic liver and kidney conditions.

Experts behind the study say that their findings show that people who have been discharged should be monitored in the months afterwards.

Debbie White

UK VACCINATING AT MORE THAN DOUBLE EUROPE'S RATE

The UK is vaccinating at double the rate of any other country in Europe, Matt Hancock revealed tonight – as he warned the nation: "Don't blow it now".

It comes after the Health Secretary announced more than 50 per cent of over 80s have been given a jab – and half of those in care homes as jabs hitfour million today.

Someone is now being admitted to hospital every 30 seconds, with more than 37,000 people now in care of doctors and nurses across the country.

Source: Read Full Article