Covid UK news – Over 60s still 'SERIOUSLY vulnerable' until they get 2nd coronavirus vaccine dose, experts warn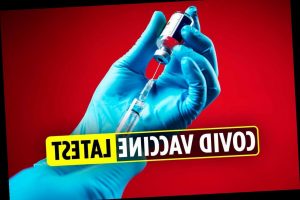 RECEIVING just one dose of the coronavirus vaccine leaves over 60s "seriously vulnerable" to catching and dying of covid, experts warn.
Chilling new data from Israel has shown that the efficacy of one dose of the Pfizer/BioNTech may be as low as 33% in people over 60 – far lower than"around 90%" as JCVI announced last month.
While the Israeli research hasn't been published or peer reviewed, it does raise concerns for the millions of Brits who've had a single dose of the Pfizer vaccine who won't receive the second jab for another 12 weeks.
The UK's decision to increase the gap between jabs to up to 12 weeks in order to give as many people as possible the first dose was controversial when announced last month and goes against Pfizer's own guidance.
And following the emergence of the new data, Israeli scientists now believe UK experts hugely overestimated the level of immunity patients receive from one dose of the vaccine, leaving over 60s "seriously vulnerable".
Follow the very latest news, updates and analysis of the coronavirus crisis in our live blog below.
Catriona Graffius

EIGHTEEN FAMILY MEMBERS CAUGHT COVID AFTER THROWING HUGE CHRISTMAS PARTY

Eighteen family members contracted Covid-19 with two hospitalised after throwing a huge Christmas party despite one of them displaying a classic symptom of the virus.

The Reynolds family threw the mega-bash for extended family in their home in America – with some relatives travelling from as far as Canada – even though one of the hosts had a cough.

Mum Darlene Reynolds, 55, went ahead with the superspreader party on December 27, even though she had woken up the previous day with a scratchy tickle in her throat.

The massive family Christmas party led to 18 testing positive for Covid-19, from babies to grandparents.

The virus hit the partygoers, aged from one to 62, almost immediately – with Mrs Reynolds' husband and son both getting so ill they had to be hospitalised.

Catriona Graffius

HEARTBREAKING MOMENT NHS MORTICIAN BREAKS DOWN AFTER DEALING WITH SURGE IN COVID DEATHS

This is the heartbreaking moment an NHS mortician breaks down after dealing with a surge in Covid deaths.

Senior mortician Hannah Leahy has likened the constant loss of life to a "conveyor belt" as doctors and nurses struggle to keep up with the rise in hospital admissions.

In Royal London Hospital where 12 out of 15 floors are occupied by Covid patients, the deaths are taking a toll on its staff.

Speaking to the BBC Ms Leahy said :"How do you ever prepare for people just dying and dying and dying, you know?

"Although it's our job and we deal with dead people every day, this level, I think it's taken its toll. It does feel like a conveyor belt in a way."

Heartbreaking moment NHS mortician breaks down as she says surge in Covid deaths feels like 'conveyer belt'

Catriona Graffius

BORIS JOHNSON VOWS TO WORK 'HAND IN HAND' WITH BIDEN TO FIGHT COVID

Boris Johnson has vowed to work "hand in hand" with Joe Biden on the fight against Coronavirus and climate change – as a senior Cabinet minister declared it's now time to "move on" from the chaotic Donald Trump era.

The PM said together Britain and America can lead the world in the effort to "build back better from the pandemic" and that the pair will to "join forces to protect our planet".

His remarks came ahead of Mr Biden's official inauguration as US President at 5 pm today, at a ceremony in Washington.
Catriona Graffius

WETHERSPOONS TO STAY SHUT UNTIL APRIL AS PANDEMIC CONTINUES

Pub giant JD Wetherspoon has said that it expects its pubs to remain shut until APRIL as the coronavirus pandemic continues.

The company said it has made "zero" sales in 2021 so far as all of its 872 pubs have remained shut since December 31, 2020. 

At the same time, it is burning through £4million in cash a week.

The pub chain added that more than 99% of its 37,674 current employees are furloughed as a result.

It had planned to entice punters back with cut prices in January but instead it was forced to close all of its pubs when most of England was plunged into Tier 3 and Tier 4.

Catriona Graffius

…CONTINUED

Writing in today's Sun, Ms Patel said: "false information about the vaccine is putting lives at risk. I praise The Sun for bringing this issue to the fore.

"I will do all I can in my role as Home Secretary — and the most senior female politician from an ethnic minority background in the country — to reach out to our wonderfully diverse ethnic communities to support the largest vaccination programme in NHS history."

Catriona Graffius

MOSQUES AND TEMPLES TO BE USED TO JAB WORRIED BRITS

Mosques and temples will be used to jab worried Brits in a drive to stamp out "tragic" religious conspiracy theories about the vaccine.

Priti Patel has launched a major drive to tackle fake news claiming the vaccine is unsafe from spreading in ethnic minority communities.

The Home Secretary said today: "we will see temples, gurdwaras, mosques, community centres as well being at the heart of the vaccine rollout programme." 

It comes as Sir Patrick Vallance called the low uptake of the jab in BAME communities a "tragedy" after conspiracy theorists are spewed dangerous messages online.

South Asian families are among those being targeted with untrue claims the vaccine contains meat or alcohol, banned in some religions.

Catriona Graffius

CHANGE IN CASE RATES IN ENGLAND OVER THE PAST SEVEN DAYS

Catriona Graffius

PFIZER VACCINE ONLY 33 PER CENT EFFECTIVE, ISRAELI EXPERTS CLAIM

One dose of the Pfizer vaccine is only 33 per cent effective, Israeli experts claim, raising questions over the UK's plans to delay the second dose for three months.

Millions of people have now received their first vaccine dose, including more than half of the over 80s.

But the latest research in Israel – where more people have been vaccinated per capita than anywhere else in the world – suggests the elderly are more vulnerable to Covid than believed after their initial jab. 

The UK Government's vaccine advisors said the efficacy of the vaccine was 89 per cent, starting 14 days after the first dose.

Catriona Graffius

UK COVID DEATHS UP A RECORD 1,610 YESTERDAY

The UK experienced its deadliest day during the pandemic yesterday – as a staggering 1,610 Covid deaths were reported.

Another 33,355 coronavirus infections were also recorded yesterday.

The second-highest daily death toll was reported on January 13, when 1,564 people tragically lost their lives to the virus.

The UK's total death toll from coronavirus now stands at 91,470.
Catriona Graffius

TWO NHS HOSPITAL TRUSTS START 24/7 COVID VACCINATIONS

Two NHS hospital trusts are now giving out 24/7 Covid vaccines.

They are part of a pilot to eventually get jabs in Brits' arms at all hours in the mass rollout.

University Hospitals of Birmingham Foundation Trust and Sherwood Forest Hospitals Foundation Trust started trialling the programme today, HSJ reported.

Medics at the two Midlands centres will stay focused on the same sections of the public being given the vaccine at already established hubs.

This includes high-priority groups, those over 80 and frontline and social care workers.

Catriona Graffius

CHINA SPREAD ANTI-VAXX CONSPIRACIES OVER PFIZER JAB

China is spreading anti-vaccination conspiracies about the Pfizer coronavirus jab using its state-run media to suggest it might kill people.

It comes after Norwegian health authorities said there was no direct link between the vaccine and the deaths of 33 elderly people.

Chinese state media is seizing upon the chance to spread misinformation about the vaccine as its rolled out in nations around the world, including Britain.

Communist Party-owned newspaper The Global Times and state-controlled television network CGTN have both been found by The Sun Online to be playing up fears over the Covid jab.

And while attempting to rubbish the Pfizer vaccine – which is due to be given to 40million people the UK – it also seizes the chance to play up China's own vaccine, CoronaVac.

Catriona Graffius

VACCINE PASSPORTS MAY BE NEEDED TO TRAVEL FREELY IN EUROPE

Next time you head on holiday abroad, you may need two passports with you as a number of European countries are considering vaccine passports to allow free travel.

Spain, Greece and Brussels are just some of the destinations which support vaccine passports from travellers to allow them to visit the country without restrictions.

The passports would show that the holder had been vaccinated, and could allow them to skip quarantines or avoid restricted movement in the country.

 

Catriona Graffius

MUTANT COVID STRAINS ARRIVE IN BRITAIN

Catriona Graffius

PFIZER COVID VACCINE DOES WORK AGAINST UK MUTANT STRAIN, NEW STUDY SUGGESTS

Pfizer's Covid vaccine is likely to protect against the mutant variant of coronavirus first discovered in the UK, new findings suggest.

The encouraging results from further tests on the jab will provide further hope after Britain recorded its deadliest day in the pandemic on Tuesday.

The results are based on more extensive blood analysis of participants in trials of the Pfizer/BioNTech jab.

Last week, the US drugmaker said a similar laboratory study showed the vaccine was effective against one key mutation, called N501Y.

This had been found in both of the highly transmissible new variants spreading in the UK and South Africa.

Catriona Graffius

'EVERY LITTLE COUNTS'

Looking at individual transmission and how people can protect themselves Sir Patrick Vallance said face masks are more effective at preventing spread from the person wearing them.

He said they are useful at stopping asymptomatic people spreading the virus to others.

He added: "It's important and we need to do it and every little counts in terms of making sure that we get on top of this."

Prof Vallance however said that he couldn't put a number on how effective they have been.

He said vaccines wont get the numbers under control now but things like mask wearing and hand hygiene would.
Catriona Graffius

FACE MASKS COULD STILL BE NEEDED NEXT WINTER TO FIGHT THE VIRUS

Face masks and indoor restrictions could still be needed next winter to keep the coronavirus at bay, an expert has warned.

The use of face masks and coverings is currently mandatory in all shops and on public transport and Sir Patrick Vallance this morning warned that they could still be in place next winter if we are to keep infections down.

Speaking to Sky News this morning he said: "It's more likely to be that we wear masks in certain places, that we are continuing with hand washing, making sure that we are sensible about the way in which we interact with people indoors.

"That's the sort of thing we might anticipate. This virus has taken us by surprises time and time again, we just don't know."

Catriona Graffius

PEERS STUNG TAXPAYER FOR NEARLY £100,000 OF LAPTOPS WHILE THOUSANDS OF CHILDREN STILL WAIT FOR THEIRS

Peers stung the taxpayer for nearly £100,000 of laptops and iPads to work from home during the pandemic.

But thousands of children are still waiting on theirs to do their lessons.

Parliament dished out 111 pricey devices to House of Lords members.

Peers also claimed for five webcams, three monitors, five laptop chargers, three ethernet cables and a docking station too.

It came as it emerged that 500,000 of 1.3million cheaper laptops promised to needy pupils had not arrived.

Catriona Graffius

TORIES WILL BE SEEN AS THE 'NASTY PARTY AGAIN' IF THEY DON'T EXTEND £20 WEEKLY BOOST FOR UNIVERSAL CREDIT

The Tories will be seen as the "nasty party again" if they don't extend the extra £20 a week for people on Universal Credit.

Former homelessness adviser for the Government, Dame Louise Casey has slammed suggestions the cash boost would be scrapped saying it will "take the knees out from under people".

Chancellor Rishi Sunak is set to make a decision on whether to ditch the £20 a week uplift in his March budget, following reports he could replace it with a one-off "gift" of £500 to families on benefits.

The boost is worth £1,040 over the year.

But Dame Louise said the country has been "torn to shreds" by the pandemic and called on Mr Sunak to come up with a "big plan to deal with the wounds" inflicted on "ordinary folk" over Universal Credit.

Catriona Graffius

SOUTH AFRICAN AND BRAZILIAN COVID VARIANTS ARE 'REAL ISSUE OF CONCERN', SAYS VALLANCE

The South African and Brazilian Covid variants are a "real issue of concern", Sir Patrick Vallance has warned.

The Chief Scientific Adviser said there are unanswered questions as to whether the immune system will be able to attack the "more worrying" strains.

It means scientists are still unsure whether those who have immunity from either infection or a vaccine are protected against new strains.

Both the variants from South African and Brazil have a mutation which is known to "evade" some antibodies. The UK variant, found in Kent, does not have this mutation.

 

Catriona Graffius

SCOTLAND'S LOCKDOWN EXTENDED INTO FEBRUARY

Nicola Sturgeon has today EXTENDED Scotland's lockdown into February.

The First Minister confirmed the tough Covid curbs will remain in place until "at least the middle of February".

Scots were initially plunged back into lockdown two weeks ago, and the latest announcement only extends the restrictions period, and does not change the rules set out previously.

Ms Sturgeon said today: "We cannot afford to see the rate of infections start to rise again – which from such a high baseline, it could all too easily do if we start to interact more than we are doing just now."

Catriona Graffius

BRITS HAVE 'LONG WAY TO GO' BEFORE LOCKDOWN EASED, SAYS PRITI PATEL

Priti Patel has warned Brits the national Covid lockdown has 'a long way to go' before being lifted as fears are raised about a drop-off in vaccine supply.

The Home Secretary said with the UK's Covid vaccine rollout at a 'pivotal stage' now is 'not the time' to discuss lifting measures.

The Government is currently aiming to vaccinate around 13.5 million of the most vulnerable Brits by mid-February.

But hopes of a quick route out of lockdown have been dealt a blow by recent vaccination figures showing the number of jabs being given out fell to around 170,000 on Monday, from a high of 325,000 last Friday.
Catriona Graffius

CHINA BUILDS QUARANTINE CAMP FOR 4,000 PEOPLE AMID FEARS OF HUGE COVID OUTBREAK

China has built a quarantine camp for 4,000 people amid fears of another huge Covid outbreak.

An army of 600 workers built the massive centre with thousands of isolation units in just five days.

A time-lapse video, released by state broadcaster CCTV, shows construction crews labouring day and night to build the emergency facility.

It comes amid fears of a Covid outbreak in the northern Hebei Province, which is the latest virus hotspot in the country.

Catriona Graffius

NINE COPS FINED £200 FOR BREAKING COVID RULES AFTER TUCKING INTO CAFE BREAKFAST

Nine cops have today been fined £200 each for breaking Covid rules after being spotted eating breakfast in a London cafe.

Pictures taken by a passerby appeared to show several police cars parked outside The Chef House Kitchen in Greenwich – with a group of bobbies tucking into food inside.

And Met Police today confirmed nine officers had been fined – saying cops had "fallen short".

Under Covid rules, all hospitality venues are banned from table service under current lockdown rules – and can only offer takeaway and delivery.

 

Catriona Graffius

BORIS STARTS TOP SECRET PLANNING TO EASE LOCKDOWN BY EASTER

Boris Johnson has begun top secret planning for millions to meet loved ones this Easter – but cracked the whip amid lagging vaccine numbers.

The Sun has learnt Cabinet Office civil servants have begun building a detailed "unlocking framework" to gradually ease Covid restrictions area by area.

Although publicly ministers say it's too soon to say when freedoms can be restored, the PM has tasked No10 officials with building the plans with his eye on early April – even if for many it's only mingling outside. 

But those freedoms are dependent on the vaccine rollout working and declining hospitalisation numbers.

Catriona Graffius

VACCINE FIGURES SLUMP BY NEARLY HALF IN PAST FOUR DAYS

The number of daily vaccines being carried out has slumped by nearly half in the past four days, alarming figures reveal.

Medics in England carried out 170,900 jabs on Tuesday – well below the daily record of 324,711 vaccinations dished out last Friday.

And it is significantly lower than the number of jabs carried out last Wednesday and Thursday, which were around 250,000 and 275,000 respectively.

Dr Duncan Robertson, an analyst at Loughborough University, said: "The number vaccinated has fallen for three successive days.

"It would be useful to know what the vaccine supply schedule is over the next weeks and months, and the reason for this decrease."

 
Source: Read Full Article