Finland's PM Sanna Marin vows to back Ukraine 'as long as needed'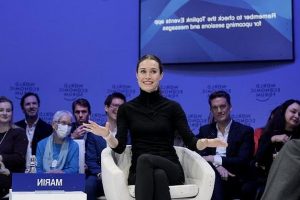 Finland's PM Sanna Marin vows to back Ukraine 'as long as needed' as she joins global elite in Davos
Finland's Prime Minister Sanna Marin addressed the World Economic Forum 
She said her country was prepared to stand with Ukraine for as long as necessary
Finland has a 1,340km border frontier with Russia  – the longest in the EU  
Finland's prime minister Sanna Marin has vowed to support Ukraine in their war against Russia for 'as long as needed'. 
Ms Marin, who was attending the World Economic Forum in Davos, updated world leaders on her nation's plans to counter Russian aggression. 
Finland shares a 1,340km border with Russia – the longest frontier between any European Union state and the former Soviet republic. 
Ms Marin said: 'I think the only message that we need to send is that we will support Ukraine as long as needed. One year, two years, five years, 10 years, 15 years.' 
Finland's Prime Minister Sanna Marin, pictured at the World Economic Forum in Davos today, said her country will continue to support Ukraine in its fight against Russia 
Finland shares a 1,340km border with Russia – the longest of any EU nation
In 2022, the Finnish government spent some €300 million on support to Ukraine, around €190 million of it on buying defence equipment.
Finland is also looking to join Nato following the invasion of Ukraine given their long border with Russia. 
The former Soviet Baltic states of Latvia, Lithuania and Estonia have all joined Nato since securing their independence from Moscow following the collapse of the Iron Curtain. 
Ukraine's First Lady, Olena Zelnska, also addressed world leaders and corporate executives who gather this week in Davos. 
She said parents in Ukraine are in tears watching doctors trying to save their children, farmers are afraid to return to their fields filled with mines and 'we cannot allow a new Chernobyl to happen,' referring to the 1986 nuclear disaster as Russian missiles have pounded Ukrainian energy infrastructure for months.
'What you all have in common is that you are genuinely influential,' Zelenska told attendees. 'But there is something that separates you, namely that not all of you use this influence, or sometimes use it in a way that separates you even more.'
She spoke as hundreds of government officials, corporate titans, academics and activists from around the world descended on the resort town. The weeklong talkfest of big ideas and backroom deal-making prioritizes global problems such as hunger, climate change and the slowing economy, but it's never clear how much concrete action emerges to help reach the forum's stated ambition of 'improving the state of the world.'
Finland and Sweden last year applied to join Nato as full members
'We are all internally convinced that there is no such global problem that humanity cannot solve,' Zelenska said. 'This is more important now when Russia's aggression in Europe poses various challenges.'
The fighting has killed thousands of civilians, displaced millions and jolted food and fuel markets worldwide, raising inflation and expanding food insecurity in developing nations.
'There is a right to food that every human being has, and it's an insult for mankind and for human nature itself, that in the 21st century, it is possible for us to have mass starvation simply because because there is a targeted aggression of some countries,' she said.
European Commission President Ursula von der Leyen urged the executives and leaders at Davos to keep aiding Ukraine.
'It is a perfect opportunity to take investment and reform to pave this way for Ukraine towards the European Union,' she said. 'And my call on you is: We need every helping hand on board. Ukraine deserves to have as much support as possible.'
While urging unity for Ukraine, the head of the EU's executive arm unveiled a major clean tech industrial plan to compete with China and the United States as the 27-nation bloc looks to remain a leader on plotting a greener future.
She said the plan would make it easier to push through subsidies for green industries and inject funding into EU-wide projects to help reach a 2050 goal of climate neutrality. The bloc also would be more forceful in countering unfair trading practices.
Instead of trade disputes, Chinese Vice Premier Liu He focused on his optimistic vision for a rebound of the world's second-largest economy after strict COVID-19 measures. He spoke at Davos after China released data Tuesday showing economic growth fell to its second-lowest level in at least four decades last year.
'If we work hard enough, we are confident that in 2023, China's growth will most likely return to its normal trend. The Chinese economy will see a significant improvement,' said Liu, a senior economic official on China's Cabinet.
Scores of notables, including former U.S. Vice President Al Gore, trudged through the snow and crisscrossed the Alpine town of 10,000 to attend panels on everything from the environment to cryptocurrencies to the fight against COVID-19.
Many minds were on the devastating Russian missile strike that hit an apartment building in the southeastern Ukrainian city of Dnipro, killing dozens of people in one of the deadliest single attacks in months.
Zelenska said 'there are no day offs from war' and that 'everyone in Ukraine has to risk their lives every day,' but added that she believed the world would unify for peace.
Her husband, President Volodymyr Zelenskyy, will be beamed in by video tomorrow to complement the in-person delegation of his wife and officials such as Minister of Digital Transformation Mykhailo Fedorov.
Davos offers a new chance for Ukrainian envoys to ramp up international support for donations of weapons like tanks and anti-rocket defenses and greater pressure to further isolate and squeeze Russia's economy.
France, the UK, the US and other nations are vowing to send increasingly powerful weapons to Ukraine, such as tanks or armored combat vehicles.
Source: Read Full Article