Archer Gray Ups Rebecca Choi, Adds Kelsey Jackson As It Expands Narrative Division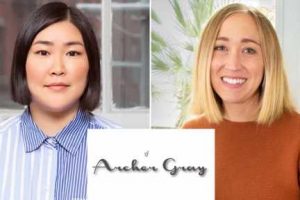 EXCLUSIVE: Archer Gray has today announced the promotion of Rebecca Choi to Vice President of Narrative Film and the addition of Kelsey Jackson in the newly established role of Vice President of Narrative Television.
The news follows the recent announcement of Vinay Singh being upped to CEO, as well as the company's expansion into unscripted content with the hire of Liza Keckler, and the launch of its Co-Lab division headed by former Disney and Fox exec Jim Fielding. It also precedes the bow of The Persian Version — a dramedy from writer-director Maryam Keshavarz, which will this week become Archer Gray's sixth project to premiere at the Sundance Film Festival.
Related Story
'Can You Ever Forgive Me?' Producer Archer Gray Elevates Vinay Singh To CEO
Both new VPs will help grow the company's narrative slate under Archer Gray Partner and President of Narrative Production, Anne Carey — collaborating with a team now spanning unscripted content, live experiences, and brand and retail strategy.
"I am very excited to expand Rebecca's role at Archer Gray and to add Kelsey to the team," said Carey. "Rebecca and Kelsey each bring unique perspectives to developing film and television narratives which are certain to resonate and expand on the company's values."
"Archer Gray strives to shine a light on distinctive storytellers that inspire meaningful dialogue," remarked Singh. "Rebecca's and Kelsey's work embodies that ethos completely."
Choi added that "working at Archer Gray for the past 8 years has been such a privilege. I'm proud of the work we've done so far, and I'm eager to continue developing distinctive and engaging projects that have a strong point of view."
Jackson stated in closing that she's "beyond thrilled to join Archer Gray. The company's commitment to innovation and quality provides an exciting opportunity to develop projects across a variety of television formats and tell stories not often explored on screen."
Choi joined Archer Gray in 2014 and has played an increasingly integral role in managing the company's development slate, culminating in her work as a co-producer on this year's The Young Wife from writer-director Tayarisha Poe, which the company produced with FilmNation. She also actively represents the company across numerous initiatives and organizations — serving as a workshop leader for Film Independent, Tribeca Film Institute, IFP/Blackhouse Producers Lab, Gotham/WGA Script to Screen and more.
Jackson previously worked as an executive at ACE Entertainment and Awesomeness TV, also working in production on shows including American Horror Story and American Crime Story. She also co-produced Netflix's hit franchise To All the Boys I've Loved Before and served under director Alfonso Gomez-Rejon on projects including Me and Earl and the Dying Girl.
Founded by Amy Nauiokas in 2010, Archer Gray is known for producing such acclaimed indies as 20th Century Women, Lost Girls and Can You Ever Forgive Me?, to name a few. Other notable projects from the company include the Tony-winning musical Once and the SXSW-winning documentary, Transmilitary.
Must Read Stories
Is Unofficial Marvel Ban Over With Upcoming 'Wakanda', 'Ant-Man & Wasp' Releases?
'The Last Of Us' Scores HBO's Second-Best Debut Since 2010 With 4.7M Viewers
Paul Feig & Sam Raimi Team On 'Suburban Hell' Adaptation for Legendary
Disney Skewers Activist Investor Nelson Peltz As Lacking "Skills And Experience"
Read More About:
Source: Read Full Article