Former union boss 'hung out to dry' by Victoria Police, appeals court told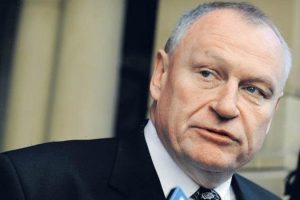 Former Police Association boss Paul Mullett was "hung out to dry" by Victoria Police and denied the chance to prove he was the victim of a plot to oust him after the failure to provide him with documents from the Lawyer X scandal, an appeals court has heard.
In 2016, a Supreme Court judge rejected Mullett's claim he was the victim of a malicious prosecution over his suspension from Victoria Police in 2007, after allegations at the time he tipped off a detective who was the subject of a murder investigation.
Paul Mullett, the former secretary of the Police Association, in 2009.Credit:Craig Abraham
Mullett resigned from his position as Police Association secretary in 2009, and later had charges of attempting to pervert justice and perjury dropped. Years later, he sought a multimillion-dollar settlement against former chief commissioner Christine Nixon and two other senior police officers, until the Supreme Court ruled against him.
Almost six years on from that judgment, Mullett now argues the failure to disclose to him before his trial documents related to the scandal involving disgraced barrister-turned-informer Nicola Gobbo gives him grounds to have retried his case against Nixon, former deputy commissioner Kieran Walshe and Superintendent Wayne Taylor, with the state of Victoria and Victoria Police added as new respondents.
Mullett's barrister, Georgina Schoff, QC, on Monday told the Court of Appeal documents that were unearthed by the Royal Commission into the Management of Police Informants – which centred on Gobbo's position as a registered informant for police while she was a defence barrister – should have been provided to Mullett before his civil trial.
Gobbo's information was used in a high-level police taskforce, called Operation Briars, that investigated police corruption and the 2003 murder of male prostitute Shane Chartres-Abbott, who had threatened to expose police corruption and who was about to stand trial charged with raping a woman when he was killed.
Police Association boss Paul Mullett and Victoria Police chief commissioner Christine Nixon sign a police pay deal in 2007.Credit:Victoria Police
Two detectives were suspected of a role in the murder but were never charged. There is no suggestion Mullett was involved in Chartres-Abbott's death.
The three men who were charged with murder were all acquitted.
Among the senior police involved in Operation Briars were Graham Ashton and Simon Overland – both of whom later became chief commissioners – and Assistant Commissioner Luke Cornelius. The royal commission heard Operation Briars used Gobbo to elicit information from one of the detectives about the Chartres-Abbott murder.
Schoff said on Monday minutes of the Operation Briars meetings showed senior police discussed in the Operation Briars meetings an investigation into a police union delegate who was in 2007 suspected of misusing the force's email system under the alias "Kit Walker".
Shane Chartres-Abbott in 2003.Credit:Andrew De La Rue
Plans to question the delegate over the emails were a source of tension between Mullett and Nixon as their working relationship deteriorated.
But Schoff said the only documents produced from the Briars meetings to Mullett were those related to the "Kit Walker investigation", and that the disclosure of other documents would "explain the gaps" in what was discussed at the meetings.
"We'll be asking your honours to infer that the reason these documents weren't produced when they were clearly relevant, nay critical, was because they revealed that Nicola Gobbo was deployed by Briars and, more importantly, that Overland, Cornelius and Ashton knew at this early stage she was a human source, and they were seeking to use her," Schoff said.
The barrister argued the failure to disclose relevant documents denied Mullett the chance to prove he was the victim of a plot to get him out. Mullett argues he was the victim of a malicious prosecution and Nixon and the other defendants engaged in public misfeasance against him.
"This is one of the exceptional cases where the administration of justice calls for an inquiry into why the documents were not disclosed and an opportunity for Mr Mullett to have a fair trial [was denied]," Schoff said.
Mullett, former assistant commissioner Noel Ashby and former police media director Stephen Linnell were all charged with perjury over allegations they gave false evidence to the then Office of Police Integrity in 2007 over the alleged leaks. Ashby was acquitted and Linnell was convicted, but that was overturned on appeal.
Schoff said the three men were "hung out to dry in the OPI".
Lawyers for the respondents called on the court to dismiss the appeal, and argued Mullett had failed to establish that he would have won his civil trial had the documents been disclosed.
They also argued that if granted the right to appeal, a retrial would have little chance of success.
Richard Knowles, QC, said Nixon was never involved in the decision to prosecute Mullett, and that Walshe and Taylor were never part of Operation Briars.
Knowles said it was "hard to understand" how the lack of disclosure of documents before Mullett's civil trial should be "sheeted home" to his clients, when some came to light only after the case.
Ian Freckelton, QC, said the state and Victoria Police were not parties to the original proceedings and were not obliged to produce documents.
The Court of Appeal reserved its decision.
The Morning Edition newsletter is our guide to the day's most important and interesting stories, analysis and insights. Sign up here.
Most Viewed in National
From our partners
Source: Read Full Article