Fresh trial awaits widow accused of having husband kill her ex-partner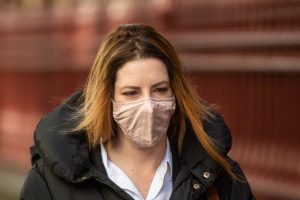 A jury has been unable to reach a verdict in the murder trial of a woman accused of having her husband kill her former partner, after both men died in a fight.
On the night of March 12, 2016, Glen Cassidy – who had been married to Biannca Edmunds for about a week – was stabbed with a knife by Michael Caposiena at Caposiena's home in Westmeadows, in Melbourne's northern suburbs.
Biannca Edmunds outside the Supreme Court last week.Credit:Justin McManus
Moments later Cassidy shot Caposiena – the father of Edmunds' child – in the head with a .22 sawn-off rifle.
Edmunds was 170 kilometres away that night, at her home in Shepparton, but prosecutors argued to a Supreme Court jury there was an agreement, arrangement or understanding between her and Cassidy that he would kill Caposiena. Edmunds, 36, has pleaded not guilty to murder.
On Tuesday, the jury informed the court it had been unable to reach a verdict after three days of deliberating, and Justice Lex Lasry said he had no other option than to discharge the jurors.
A retrial will be held at a later date.
Biannca Edmunds and husband Glen Cassidy.
Prosecutors allege Edmunds wanted Caposiena dead as he had wanted to see more of their son, who was born after they separated, but that it was not her intention for Cassidy to be killed.
Prosecutors also allege Edmunds composed a text message on Cassidy's phone and sent it to her phone, in an attempt to give the appearance her husband wrote it. The message absolved her of any involvement in the plan to kill.
The text message sent from Glen Cassidy's phone to Biannca Edmunds on March 12, 2016. Prosecutors argue Edmunds wrote the text and sent it to herself as an alibi.
The text message, sent about seven hours before the fatal fight, contained no spelling errors and raised alarm among Cassidy's family members, who knew he had poor literacy skills.
In contrast to the text message, a to-do list found on Cassidy's phone made reference to "one bulet" (bullet) under a heading of "opsticals" (obstacles). And a hand-drawn map of Caposiena's address, that police believe Cassidy drew with Edmunds' help, had references to a "vacat bloc" (vacant block), "naber" (neighbour) and "dor" (door).
Prosecutor Neill Hutton last week told the jury the text message was "damning evidence" against Edmunds, and suggested it was an attempt to create an alibi for herself. Even if Cassidy composed the message, Hutton said, Edmunds had time to prevent the confrontation, but she did not act.
Hutton said a trip Edmunds made to Darwin in early March 2016 was also organised as an alibi, as she had wanted Cassidy to attack Caposiena while she was away. The prosecutor said recorded phone calls between Edmunds and Cassidy showed they spoke in a basic code, with references to work and a job that needed to be done.
Edmunds denied to police she wanted Caposiena killed or that she instructed Cassidy to murder her ex-partner, and claimed she had no involvement in creating the text message or map.
Witnesses told the trial they heard Edmunds speak of wanting Caposiena killed and that afterwards she admitted an involvement in his death, and that she manipulated Cassidy with sex.
A hand-drawn map of Michael Caposiena's home and surrounds.
Cassidy's mother said she overheard Edmunds say: "I wish I could get someone to kill him, I want someone to shoot him. I wish I could find someone to kill him. I suppose that would be illegal."
Edmunds' mother gave evidence that her daughter said the day after the deaths: "It's all my fault, none of this should have happened. Glen wasn't supposed to die."
One of Cassidy's friends told the trial that Edmunds told her husband: "If you're a real man, you'd do something about this bloke. If you had any f—ing balls, you'd deal with it."
The friend said when Cassidy walked away from the conversation, Edmunds asked the friend if he would kill Caposiena.
In his closing address last week, Hutton told the jury the evidence against Edmunds was overwhelming. "I submit to you that she's the driving force behind this murder," he said.
But defence counsel John Kelly, SC, said there was a reasonable doubt "with almost every feature of the evidence" in the trial. He argued Cassidy acted independently in driving to Caposiena's home and killing him.
Kelly told jurors they could have no faith in the "ragtag team of witnesses" whose accounts did not hold up under scrutiny. He said they were not reliable or gave evidence out of scorn towards the accused.
He argued the recorded calls between Cassidy and Edmunds did not prove they were discussing a plan to kill Caposiena, and he suggested the husband could have composed the text message with voice-to-text software.
Edmunds had her bail extended to the retrial.
The Morning Edition newsletter is our guide to the day's most important and interesting stories, analysis and insights. Sign up here.
Most Viewed in National
From our partners
Source: Read Full Article