Giveaway that led to capture of Constance Marten and lover Mark Gordon after seven weeks on run | The Sun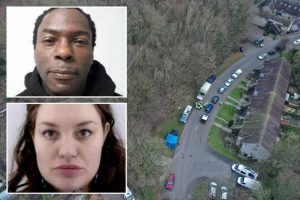 CONSTANCE Marten and her lover Mark Gordon were captured by cops while "shopping for supplies" after being on the run for seven weeks.
The Aristocrat and her convicted sex offender boyfriend were last night found by cops in Brighton – without their newborn baby – after 54 days on the run.
They were located on a residential street shortly before 9.30pm and an urgent search continues in the area.
The pair were discovered when members of the public alerted police after recognising the pair from police media appeals.
It's understood they visited a convenience store near Fiveways, Brighton to pick up supplies before heading back towards the Roedale Valley allotments.
One resident Anna Drake, 34, told The Sun: "The couple were seen around Hollingbury Place – a parade of shops. They had shopping and supplies and they were heading back towards the allotments.
MORE ON CONSTANCE
Inside couple's 54-day bid to evade capture as map reveals their movements
Constance Marten yelled at police to 'get off' lover as he was restrained
"They were recognised and followed and that person called the police. Officers in a police car then attempted to arrest them and then back-up arrived.
"There was quite a commotion. I don't think there was a struggle but they had to wait for a van to arrive. I didn't go out but heard all about it this morning."
They were both arrested this morning on suspicion of child neglect in front of shocked witnesses.
'SCREAMING AND SHOUTING'
One witness told The Sun: "The call came in from a member of the public who spotted them and thought they recognised the media appeals.
Most read in The Sun
Little-known beach is now the best in the UK according to TripAdvisor
Cops fear missing baby is at 'high risk' and they may have left it out in open
Broadchurch star Andrew Buchan walks out on wife after falling for co-star
Real reason BBC axed Ken Bruce's Radio 2 show weeks before he was due to leave
"He was apparently walking in front of her, which he has been in the other photos where they've been spotted.
"They just looked odd at that time of night.
"Originally it was one police car who spotted them, then when they realised who it was the rest of them all very quickly turned up.
"He was restrained for a while on the floor and to begin with was very animated. He was screaming and shouting.
"She was yelling at them to get off him. She was in tears and also got arrested a bit further down the street."
Cops are now desperately searching for their missing baby as fears for the tot's welfare grows.
They have been seen searching the woods behind Stanmer Villas where temperatures last night dropped to 1C.
The nearby Roedale Valley Allotments are now being treated as a "potential crime scene".
It comes as…
Tearful Marten yelled at police to 'get off' lover as he was restrained by cops
Mystery over gender of baby as cops test placenta found in car
Dramatic moment 'screams' heard during couple's double arrest
Marten's father Napier 'relieved' aristocrat has been found but 'alarmed' her baby is still missing
Police find child's ear muffs after searching bins in fingertip search of allotment
Residents say said police were seen photographing an oil drum used to burn rubbish and took finger prints at the plots.
A police officer was also pictured picking up a pink pair of child ear muffs from the ground.
They were placed into an evidence bag afterwards.
Police say they are still hoping the baby is alive and have appealed to anybody who might be looking after the child to come forward.
Miss Marten and Gordon were reported missing after their car broke down near Bolton, Greater Manchester, on January 5.
It's believed before they disappeared, Marten withdrew £15,000 of cash and the pair bought burner phones with multiple sim cards.
The pair ditched their burning car and a nationwide hunt for the three of them began.
They are believed to have spent time sleeping rough and travelling the country using cabs after being spotted buying camping equipment from an East London Argos on January 7.
Concerns grew for the missing aristocrat, 35, and her baby, as temperatures across the country plummeted.
Gordon, 48, served 20 years in a US prison for rape and battery at age 14 before he was deported to Britain in 2010.
Before they were found, the pair were last seen with their baby in Newhaven, East Sussex, on January 9.
CCTV captured images of the hooded pair dumping their child's pram in the port town.
Cops previously said the new mum had given birth in her car days before the pair fled.
A Met Police spokesman said: "Shortly before 9.30pm on Monday, a member of the public reported a sighting of Constance Marten and Mark Gordon in Stanmer Villas, Brighton.
"Officers from Sussex Police attended the location and the pair were arrested. They remain in custody.
Read More on The Sun
Major supermarket makes huge change to meal deal – but shoppers will be divided
B&M launches massive 75% off everything in closing down sale
"The baby is still missing and an urgent search operation is taking place in the area.
"Anyone with information that could assist the search is asked to call 999."

Source: Read Full Article