How supermarkets have increased cost of essential food items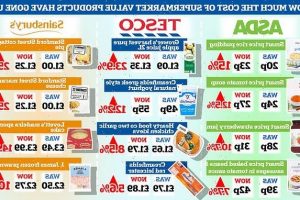 How much has the price of value products gone up in YOUR supermarket? How Tesco, Asda, and Sainsbury's have all increased cost of essential food items by up to 30% amid cost-of-living crisis
Supermarkets have raised the price of dozens of items from their value range
Asda, Tesco and Sainsbury's increased the cost of a large number of products
However Morrisons raised the price of only one value product and Aldi just two
The cost of living crisis bites harder as many of Britain's supermarkets have increased the price of common food staples by up to 30 per cent in recent weeks.
Despite millions of people struggling with the rising cost of living, Tesco, Asda, Sainsbury's, Morrisons and Aldi all hiked the price of more than 100 value range items.
Price rises were recorded for 102 items including tinned vegetables, jam, pasta, coffee, fresh meat and cheese – whilst only 34 items were lowered in price.
Some of the products' prices had been increased again, having already seen hikes earlier in the year.
The secret shopper comparisons, conducted by reporters for Nationalworld, found three times as many price rises compared to price decreases (34 items).
The big three supermarkets in the UK have all raised the prices of value range products by significant amounts in the past month
Tesco has increased the prices of the most of value products out of all the supermarkets at 42
Rising energy bills, taxes and inflation have seen UK shoppers get significantly less food for their money.
While many will now be relying on the cheaper ranges of food more than ever, the big three supermarkets have all raised their prices.
From ready meals, tinned veg to long-life milk, these vital products are up by huge percentages.
Asda increased the prices of 37 out of 158 Smart Price or Farm Stores products between April 4 and May 2.
An Asda spokesperson said: 'We know how much the cost of living is worrying our customers right now and we're doing everything we can to keep prices as low as possible on their shopping.
 'We continue to be the best value of the traditional supermarkets as shown by independent research carried out by the Grocer and Which? magazines.'
Sainsbury's increased the prices of 20 out of 237 value range products between 4 April and 2 May.
A Sainsbury's spokesperson said: 'The cost of individual products is determined by a number of factors and prices can fluctuate, both up and down, as a consequence.
Sainsbury's say they are 'relentlessly focused on keeping the prices of important products low
'We remain relentlessly focused on keeping prices low on the products that our customers buy most often such as meat, fish, poultry, dairy and fresh produce and are committed to doing everything we can to help our customers, colleagues and communities at this challenging time.
'We are investing ahead of competitors, inflating behind the market on the fastest selling 100 lines and our popular Sainsbury's Quality, Aldi Price Match and Price Lock promise give customers reassurance they don't need to go anywhere else to get the best deals.'
Tesco increased the prices of 42 out of 216 value range products between 4 April and 2 May.
A Tesco spokesperson said: 'We know that now, more than ever, customers want great value when they do their food shop.
'That's why we are committed to providing great value for our customers, whether it's promising Low Everyday Prices on 1,600 staples, price matching 650 basics to Aldi prices, or offering exclusive deals and rewards through Clubcard Prices.
'In the past week alone we have added an additional 100 products to our Low Everyday Prices.'
Morrisons only increased the price of one product out of the 43 value items between April 4 and May 2.
Savers long life skimmed milk 1 litre – 50p up to 55p, rise of 10%
Aldi only increased the price of two products out of their 90 everyday essentials items between April 4 and May 2.
Everyday essentials cheese and tomato pizza 114g – 49p up to 55p, rise of 12.2%
Everyday essentials lightly salted tortilla chips 200g – 45p up to 48p, rise of 6.7%
An Aldi spokesperson said: 'We are the lowest priced supermarket in Britain and our customers always pay less for their shop with Aldi, which is why we were named 2021 Cheapest Supermarket of the Year by consumer champion Which?.
'Value is the number one consideration for most households as they wrestle with rising costs and our promise to our customers is that we will always provide the lowest grocery prices.'
Food inflation rose to 3.5% last month, and many Brits spent less money on more expensive items like meat and poultry
The cost of living crisis has deepened for many households as energy bills skyrocketed last month due to an increase in the price cap to almost £2,000.
Hundreds of thousands of households face the choice between eating and heating. 
A raft of tax rises and reductions in state pandemic support has increased costs for businesses has ultimately lead to higher prices for their customers.
Households spent 7.8% less on chicken, beef, pork and fish in the past month than the same time last year, according to data from Nielsen, with the volume of meat, fish and poultry falling by 13% last month in a sign that people are choosing to buy less expensive goods.
Recent figures from The British Retail Consortium showed that food inflation rose to 3.5% last month.
Industry experts warned that the Russian invasion of Ukraine and the impact of soaring energy, oil and wheat prices could mean that food prices will be at least 15% higher by the end of the year.
Ukraine is known as the 'bread basket of Europe', accounting for 12% of global wheat exports, 16% of corn and 18% of barley. 
Sainsbury's chief executive Simon Roberts warned that consumers are 'watching every penny', while the boss of the Co-op warned that increasing feed prices, caused by higher grain prices, may mean that chicken could become as expensive as beef.
Source: Read Full Article