Islamist extremist, 19, admits plotting terror attack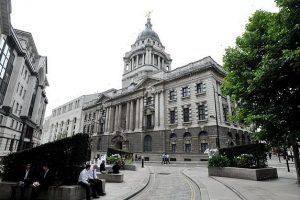 Islamist extremist, 19, admits plotting terror attack targeting British soldiers or police officers: Teenage would-be jihadist planned on blowing up Army barracks, police stations or a court before he was caught
Matthew King, of Essex, allegedly surveyed police stations and army barracks 
The 19-year-old also looked at railway stations and a magistrates court in plot
He admitted preparing a terrorism act between December 22, 2021 and May 17 
A teenaged extremist has admitted to plotting an Islamist terror to blow up a police station, army barracks or a court.
Matthew King, 19, was alleged to have carried out surveillance at police stations, railway stations, a magistrates' court and a British Army barracks.
At a hearing at the Old Bailey on Friday, King pleaded guilty to preparation of terrorist acts.
The bearded teenager stood in the dock to enter his plea wearing a grey shirt and sleeveless black padded jacket.
Matthew King, 19, from Essex, admitted to preparing a terrorist attack related to his extremist Islamist beliefs
His lawyer Hossein Zahir KC said the defence had submitted a basis of plea to the court.
Judge Mark Lucraft KC adjourned sentencing until April 14 for a pre-sentence report to be prepared which will include the issue of the defendant's dangerousness.
Addressing King, Judge Lucraft stressed it was in his 'best interests' to help those preparing the report.
Speaking quietly in the dock, King replied: 'Understood.'
Authorities had been tipped off about King through an anti-terrorist hotline and the Prevent counter-terrorism programme after he posted a video on a WhatsApp group on April 13 last year.
In it was an image of a male holding a knife with the words: 'Those who said that there is no jihad and no battle. They are lying!
'Our jihad will continue until disappearance until the day of judgment! Now the battle has begun and it will continue until the day of judgment. So take out your sword, O youth, and destroy the kufr.'
Stratford Magistrates' Court (pictured) was one of the building that King allegedly surveyed while planning an attack
King, from Wickford, Essex, was arrested at his home on May 18 by officers from the Metropolitan Police Counter Terrorism Command and his mobile phone was examined.
After being cautioned, he responded: 'I don't believe in the UK law, the only law I believe in is the law of Allah.'
He was subsequently charged with preparing an act of terrorism between December 22 2021 and May 17 2022.
Prosecutors alleged the plot was related to extreme Islamist beliefs and that King carried out surveillance at railway stations, police stations, Stratford Magistrates' Court in east London and an Army barracks in East Ham, also east London.
At an earlier hearing, prosecutor Gillian Curl had said that no 'specific act of terrorism' had been identified.
But she said: 'He was preparing for an act against either serving on-duty police officers or military personnel.'
The defendant has been in custody since being charged.
Source: Read Full Article