It's more than rules or responsibility, we need community engagement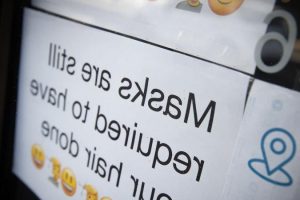 For our free coronavirus pandemic coverage, learn more here.
We are exhausted, as are our health leaders and workers and policymakers. The arrival of Omicron is truly terrible timing.
But it forces us to contemplate how we can adapt more rapidly to managing the uncertainty of new variants in our community.
Using masks, social distancing and gathering outdoors instead of indoors all help to reduce the risk of being infected by, or transmitting, COVID.Credit:Getty Images
Masks, social distancing, hygiene, minimising indoor gatherings, maximising ventilation and use of the great Australian outdoors, all help suppress transmission. If enough of us practise this, then we can moderate the risk of people ending up in hospital in numbers that strain the system.
If enough people automatically take such precautions, then rules become less of a focus, and we are closer to managing this without having to rely on them.
I know some will read this and think "we can't rely on all people to do the right thing", but this is where we have to get to eventually, and we must work out what that takes.
Do people know what is needed and why? Do we all understand what is at stake, and what do we need to put in place to support this?
Take masks for example. Not everyone complies with mask rules in Victoria, especially as enforcement is relaxed. We know from the protests that for some it is the rule more than the mask wearing itself that troubles them. Rules in and of themselves may not make as large a difference to adherence as we might like to think.
Some of the more significant advances in Victoria's public health response were made in turning around infection rates in the larger waves of 2020 and 2021, and lifting vaccination rates this year, in partnership with community leaders.
What we have learnt in outbreak responses now needs to be built into our public health protection and prevention strategies.
As we deal with Omicron and try to keep transmission in check until we know exactly what we are facing, we need to dial up our public health safety measures. This isn't just about mask rules, or personal responsibility, it is about establishing a partnership between the public health leadership and teams with the public that is well enough resourced to see us through.
We need to dial up our public health safety measures.Credit:Justin McManus
An effective partnership requires clear delineation of roles and expectations. As the transition away from COVID-zero progresses, the role of the public health team has fundamentally shifted – they no longer chase every case, rather they focus on high-risk settings and outbreaks where intervention makes the biggest difference.
The public has a larger role in letting contacts know if they discover they are infected and were out and about while infectious, and in coming forward for testing in the first place.
The daily case counts have become less helpful as the drivers for people getting tested shift. We've changed the way we notify close contacts and no longer report public exposure sites, unless there is a very high risk. There has also been a rise in demand for testing with holidaymakers needing negative tests to cross state borders.
Victoria's hospital and ICU rates more than doubled in 10 days earlier this month while reported case numbers appeared relatively steady and the average reproduction number stayed close to one.
The percentage of positive tests remained relatively constant with an influx of low-risk holidaymakers who require a negative test, no matter how long the queues, possibly at the cost of people with mild symptoms or who had a positive rapid antigen test.
Health departments do need to watch infection levels in the community for early warning of potential ICU demand and for shifts in disease severity and mortality rates, but cannot do this purely through voluntary testing. It is time for them to move to more sustainable surveillance methods, but also use reliable incidence estimates as we monitor Omicron in our community. Active random population screening or zero-prevalence surveys can monitor transmission trends and infection rates.
An understanding of transmission potential and overall risk, based on infection incidence and severity, are central to the public health information that informs individual and collective decisions about public health safety measures.
But we need to understand at what level of community risk these precautions need to be dialled up, what they should entail, and how they should most effectively be implemented. We need to do more than assume that rules are working, or to hand over to the community a personal responsibility.
We can improve our understanding in real time by comparing adherence across jurisdictions with different policy settings of mandatory versus strong recommendations. We must learn how we can jointly monitor and moderate risk in the longer term to the best effect, with the least impact and in a sustainable way.
We definitely do not want to let this virus move through our communities unabated, but we also need to find ways to live with the dialling up and down of behaviours required to keep it under control.
Most Viewed in National
From our partners
Source: Read Full Article