I've been ordered to tear down the colourful fence around my 7-year-old son's grave – they are ruining his memory – The Sun | The Sun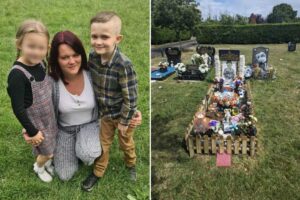 A MUM ordered by a council to tear down a colourful fence around her 7-year-old son's grave says she is furious and upset.
Little Harry-Lee Andrews-Tomlinson died after suffering an asthma attack in February 2022.
Mum Sharna Andrews and daughter Zofia, now 8, spent days hand painting a wooden fence following his death, which they placed around his grave four months ago.
But last month Sharna received a letter from Gloucester City Council demanding it be removed as it didn't "comply with the rules and regulations".
The 29-year-old recalled: "I said 'what the hell is this?' – for the first few days after, I didn't know what to do or think.
"It's just the last thing we need after the grief of this.
Read More UK stories
TEEN 'KILLER'
Teen, 14, charged with murder after boy, 15, stabbed to death outside school
SHOW SOME PRIDE
I'm a war hero – veterans need to stand up against vandalism of memorials
"I feel angry and upset and disappointed – just so many emotions.
"My son is buried there, that was his last journey and what we have left of him so I'm willing to fight for it."
Sharna says football-mad Harry-Lee was "the brightest, happiest little boy" and the colourful fencing helped process her grief.
She added: "Losing your child is not a pain you expect to ever experience."
Most read in The Sun
'DESPICABLE'
Greedy son and wife jailed for robbing parents of £117k, leaving them with 28p
PIE LIFE
I tested supermarket steak pies – the best is just £2.99 and is good as any pub's
OUCH
Corrie's Alan Halsall undergoes major surgery that will take a year to recover from
OVER LOVE
Love Island star confirms split after boyfriend's arrest
The mum said the fence had been up for months at Gloucester Crematorium before she heard from the council in mid-October.
Their letter said "under the regulations relating to the Graveyard this form of memorial is not allowed and needs to be removed".
The mum said her eyes welled up and her daughter was "upset about it for days"" over what she said is the council ".
Shockingly, Sharna is one of 12 families who Gloucester City Council asked to remove items from loved ones' graves.
She blasted the council as "picking on grieving families".
Sharna managed to enlist the help of local councillor Alastair Chambers who has pushed back the dismantling order until after a council meeting on November 16.
Councillor Chambers said he was "disgusted" by the council's order and said he "won't let this rest until the rules are changed".
A spokesperson for Gloucester City Council said: "We understand that grieving is a difficult time for families, and we do not want to cause any further distress.
"The rules and regulations for Gloucester Crematorium have been put in place since August 2014 and are in line with those in place in other cemeteries and graveyards around the country.
Read More on The Sun
dressing down
Katie Price reveals vile fate of £45,000 bejewelled Peter Andre wedding dress
FACE BROKE
Facebook users raging as key button stops working and it's 'driving people nuts'
"All families are asked to sign up to these at the time of burial and copies are then sent to them to retain.
"We do not allow families to place boardings, kerb sets or chippings on graves unless they are approved by a stonemason, as it allows the ground to be maintained without risk of damaging any plastic or wooden surrounds placed there and protects the health and safety of workers and visitors."

Source: Read Full Article