My crazy neighbour cut a chunk out of the side of my house to put up a fence – it wasn't even straight | The Sun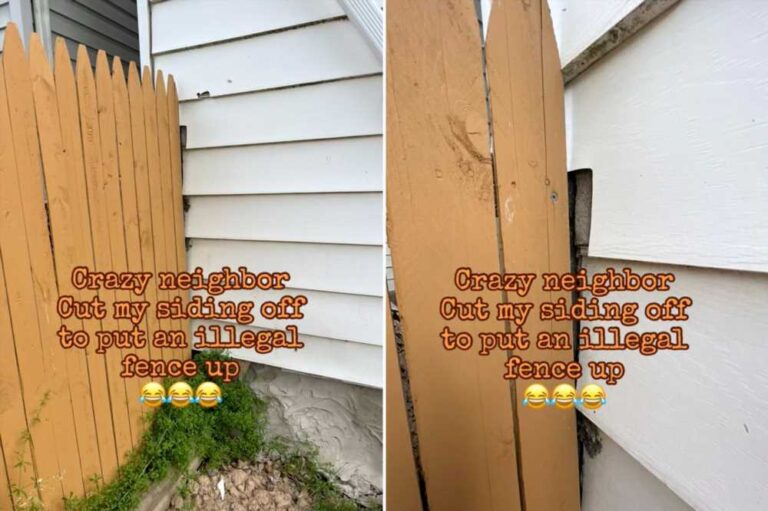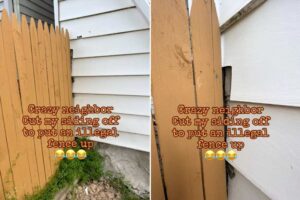 A WOMAN claims her "crazy" neighbour cut a chunk out of the side of her house to put a fence up – that wasn't even straight.
Katherine De Bois, 50, was left stunned when she spotted the white panelling on the exterior of her new property had been hacked off.
She claims her nightmare neighbour removed parts of the wall cladding so he could erect a huge wooden fence to segregate their properties.
But Katherine alleges that the bloke didn't stick to the dividing line and instead forced the panels up against her home to fit.
The property investor, from Australia, had recently snapped up the abandoned US home at auction with plans to renovate it and move in.
But she claims the man next door had his eyes on the property in hopes of "extending his backyard" – resulting in a bitter feud.
READ MORE ON NIGHTMARE NEIGHBOURS
My Karen neighbour mum-shamed me after my kid's tantrum, she was so rude
My neighbour is trying to build a house on my drive – I'm waging £7.5k battle
Katherine shared video footage of the hatchet job on the side of her home in Niagra Falls, New York State, to TikTok.
She told her 8,400 followers that her nuisance neighbour is making her renovation "impossible" with his repeated attempts to disrupt it.
"I know it's a rescue house, but it's pretty uncool to just deliberately make it worse and not even put a fence in the correct spot," she said.
The shocking video shows how chunks of the panelling had been cut off so that the fencing could lean directly against her house.
Most read in The Sun
Shocking moment adults swim past drowning boy, 7, as he sinks in pool
We gave BBC testimony about star 'who paid our child for sex pics' 7 WEEKS ago
Parents of youngster in BBC storm say 'we spoke out to protect our child'
'Hero' teacher stabbed by teen at school is named as boy, 15, arrested
The frustrated homeowner explained in the caption: "Crazy neighbour cut my siding off to put an illegal fence up.
"This is so bad. You've got to laugh. Who cuts someone's house for a fence not even in the property line?
"I had it surveyed. They just cut the back of my house to fit their fence. So that fence is not sitting on the fence line either.
"I mean we are obviously never going to be friends at this point. So I think it's time to lawyer up."
In a series of other videos uploaded to TikTok, Katherine claims she is the victim of a campaign of harassment orchestrated by the man.
She even alleged the neighbour had "attacked" her friend who was dropping off some supplies at her house.
Katherine told social media users she had reported the resident to the police as the dispute had continued to escalate.
"I just feel physically sick that any of this is happening. It's so crazy and unnecessarily uncivilised," she said in an update.
TikTok users were stunned at the lengths the man had allegedly gone to as he appeared to wage war on Katherine's renovation plans.
One wrote: "Sounds like you just won a new house!"
Another said: "They thought they could just CUT INTO YOUR HOUSE?!"
A third commented: "What makes it so much worse is that it's such an ugly fence! All those consequences for that? Really?"
A fourth chimed in: "Make sure to make them pay for the fix when you win your lawsuit."
And a fifth added: "That's crazy! How could they do that?"
Others shared their ideas for revenge as they discussed their outrage in the comment section.
Katherine admitted unwelcoming residents was "one of the risks of buying abandoned houses".
But she refused to be defeated and hinted she was going to build a "high metal fence" up to keep her scornful neighbour out.
"I'm more concerned about the constant harassment and tresspass danger," the Aussie added.
Read More on The Sun
Horrified beachgoers thought 'headless' body of child in Spain was a doll
UK pub with its own beach praised for having the 'best views in the country'
We previously told how residents complained their lives are being ruined by their neighbour's huge privacy fence.
Locals of the Hessle area of Hull, Yorkshire, claim the hulking 2.4 metre structure makes them feel "imprisoned".

Source: Read Full Article