News 'however you want to get it' as The Age launches audio bulletins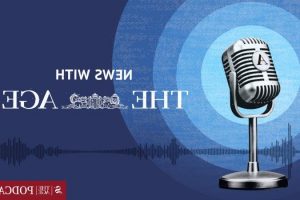 The Age is further strengthening its commitment to audio with the launch of two news bulletins for smart speakers and podcast platforms.
Each weekday at 6.30am and 4pm, The Age will release News With The Age, a summary of the most important news hosted by journalists from across the newsroom.
News With The Age is available now on smart speakers and podcast platforms.Credit:The Age
Users with Amazon Alexa-enabled smart speakers can add the bulletins directly or ask for them by saying, "Alexa, play news from The Age newsroom," and the latest bulletin will launch immediately. Apple HomePod users can ask Siri to play them by saying, "Hey Siri, play News With The Age podcast." The service will be launched on Google Assistant devices in coming weeks.
The bulletins, which will condense the best journalism in the country to a few minutes, have been created for a curious audience who want to stay on top of the news or catch up on what they have missed.
"The way people consume news has evolved, and it is imperative we evolve with them," executive editor Tory Maguire said. "We know how much our audience loves audio through the success of our flagship podcast Please Explain. Launching these twice-daily news briefings is a natural step for The Age, and allows us to showcase our agenda-setting reporting to a whole new audience.
News With The Age allows you to wake up with the most important news of the day.
"We're always looking for ways to make the most of our journalism and this brings together the success we've had with our daily newsletters and the podcast team so far.
"Our journalism is important, and it is valuable, and we want it to be enjoyed by as many people as possible and accessible however they want to get it."
News With The Age is the first audio project from Nine Publishing designed with smart speakers in mind.
Smart speakers are one of the fastest-growing audio platforms, with research conducted by Edison finding 26 per cent of Australians use them. A further 31 per cent intend to buy one in the future.
The bulletins are also available on podcasting platforms including Spotify and Apple Podcasts, ensuring a wide range of listeners can hear from The Age.
"What does The Age sound like? What we once thought of as 'readers' are now very much listeners and viewers of our journalism," head of audio and video Tom McKendrick said.
"Giving our journalism another outlet, this time in spoken form, is another step in the evolution of our storytelling. And we want to do so directly through the voices of our newsrooms; journalists giving you the news, in whatever format you prefer."
News With The Age is available now.
Most Viewed in National
From our partners
Source: Read Full Article